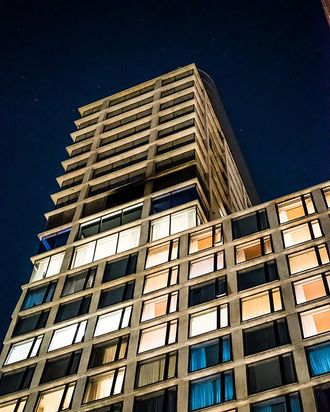 The Public Hotel, sex haven.
Photo: Cesar Soto/Courtesy of Facebook/Public Hotel
In June, the boutique Public Hotel opened on the Lower East Side of Manhattan, promising "luxury for all." What neighborhood residents say they've actually brought is a hoard of insatiable, horny guests who have sex with the blinds open, in full view of the city.
The New York Post and DNAInfo both spoke to several tenants in the adjacent public-housing building, who went into great detail about what they saw at Public. Some highlights:
"Guys are together, girls and girls are together. They don't even pull the shades down."




"You see them having sex all the time, hands on the window. Not like I'm a peeping Tom, but from the corner of my eye, you can see this going on four times a week."




"The other night, two people were doing it. If my sons were little, I would be mortified."




"He got up, and he was standing there [masturbating.]"
Coincidentally, this sounds like what everyone who hasn't been to New York imagines is happening in every New York building, all the time.