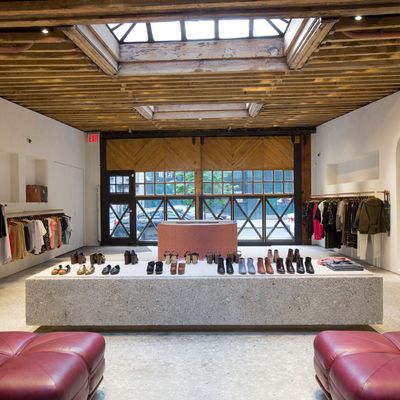 It's no surprise that Refinery29 co-founder Christene Barberich, Arden Wohl, and stylist Stacy London hand-selecting vintage pieces for a chic clothing sale, held last night at Rachel Comey's Soho store, drew a large, stylish crowd. Before the doors opened, a sizable line of shoppers gathered on Crosby Street, waiting to scour racks of vintage Oscar de la Renta dresses, Norma Kamali jackets, and Diane von Furstenberg furs — for around $100 each.
Clearly this was no ordinary sale, even beyond the incredible selection. Titled "Vintage For Voters," the night was the first in an ongoing series of pop-up stores called "Vintage For." Christene Barberich will host vintage pop-ups in various stores like Comey's to raise funds for various charity groups. Fifty percent of proceeds go to the newly reinvigorated political-action committee Downtown for Democracy, or D4D, a New York–based group of creatives committed to progressive ideals. The PAC was founded in 2003 and was well known as the culture PAC — enlisting the likes of Lou Reed and Susan Sontag. D4D is currently focused on registering voters, which is why last night, while waiting in line to try on DKNY, D4D volunteers helped guests register to vote.
Comey is on the D4D advisory committee, along with artists Marilyn Minter, Jonathan Horowitz, and others. Comey told the Cut that the Vintage For series will recur on a loose monthly basis with other charities or groups as beneficiaries.