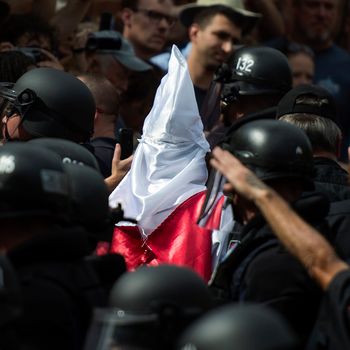 Member of the Ku Klux Klan at a rally in Charlottesville in July.
Photo: ANDREW CABALLERO-REYNOLDS/AFP/Getty Images
Two sisters who say they were among the 19 injured in Saturday's attack in Charlottesville are suing over 30 white-nationalist individuals and organizations for $3 million, claiming they incited violence prior to and during last weekend's "Unite the Right" rally.
Micah and Tadrint Washington were driving home through a crowd of counterprotesters in Charlottesville on August 12 when James Alex Fields Jr. barreled through the crowd in his Dodge Charger, and rammed into the back of their car. The crash injured 19 people, and killed 32-year-old Heather Heyer.
The force of the crash reportedly slammed the Washingtons into their car's dashboard, and left them with injuries to their heads and spines.
In response, the sisters have filed a lawsuit against 33 defendants, including James Alex Fields Jr., "Unite the Right" organizer Jason Kessler, neo-Nazi Richard Spencer, former KKK grand wizard and vocal Trump supporter David Duke, as well as white nationalist groups like the Traditionalist Worker Party, the League of the South, altright.com, Identity Europa, and the Daily Stormer.
The complaint accuses the defendants of civil conspiracy and negligence, and asserts, "Defendants knew or should have known that its actions and material support to white supremacists and white nationalists would directly result in acts of violence in Charlottesville, Virginia." It also accuses James Alex Fields Jr. of assault and battery.
The Washingtons' legal team plans to litigate the case "as an act of domestic terrorism," according to the Washington Post.
"It's exactly like 1930s Germany," attorney Timothy Litzenburg said. "We want the people who incited this catastrophe to sit in a courtroom and face a jury of normal Charlottesville citizens. That jury can decide what it is that they owe to the citizens of this city."