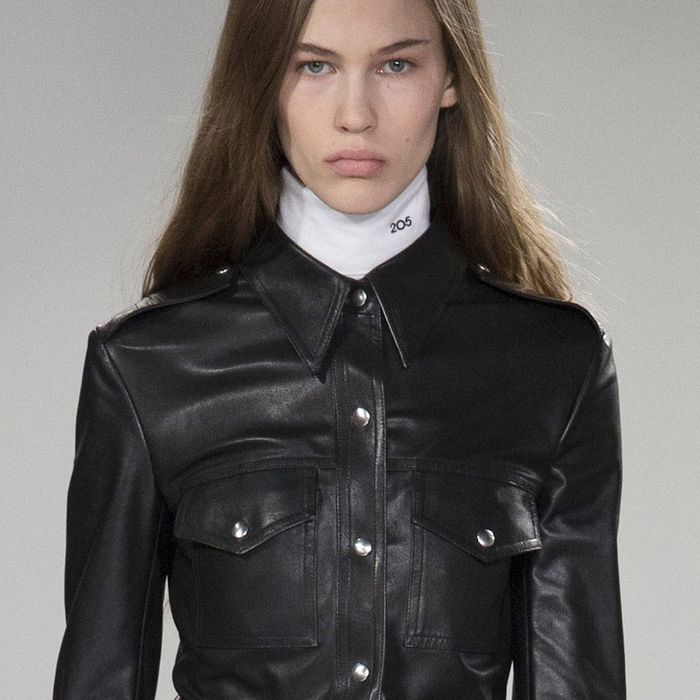 I have no shame admitting my love of whatever's trendy — it's all about the thrill of discovering something new. Last season I was obsessed with granny-looking kitten heels, and this summer it was all about gingham. But as much as I buy into the hype of fashion, I don't consider any of my obsessions to be that crazy when compared to streetwear fanatics. I'd never count down the hours for the latest Supreme drop. When I waited an hour for a V-Files Justin Bieber sweatshirt (in the name of work) I realized that I'd never be that obsessive about buying anything in my life.
And then came Raf Simons's debut at Calvin Klein. I, like so many other fashion people, eagerly awaited his show and it didn't disappoint. I was in love and I plotted all of the ways I could incorporate some his genius into my closet. Of course, what I truly wanted wasn't my flimsy attempt at re-creating his outfits — I needed the real deal. After months of not-so-patient waiting, the first trickles of his debut collection were released this week and it made feel the same crazy desire again. Of the many unique pieces in the collection, there were a few standouts: The PVC-lined yellow faux-fur coat was the winner, but at nearly $4,000, impossibly out of reach. Even some of the less extravagant items, like a color-block blue wool button-down and a cutout-sleeve turtleneck hovered around the $700 mark.
My limited budget brought me to this nondescript turtleneck. To state the obvious, you're likely find something similar at your nearest Gap. But there are other details I'm using to justify its significant price. For one, the "205" is a cool but subtle nod to Raf's rebranding of Calvin Klein — it's a piece of history. The turtleneck was a key element in the show — it was tucked under nearly every button-down or jacket to give it an unexpected finishing touch. And if we want to be really practical, turtlenecks happen to be a staple in my wardrobe so it's not like it won't get a lot of use. If I'm going to own a little piece of Raf's debut, this makes the most sense. I know, it's insane, but isn't that the same logic that comes with spending $1,000 on the resale market for Yeezys?
If you buy something through our links, New York may earn an affiliate commission.