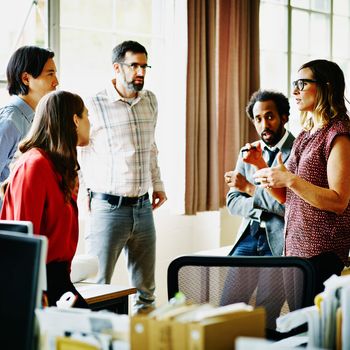 Photo: Thomas M. Barwick/Getty Images
In the midst of public outcries over nasty workplace incidents at huge organizations like Google, Fox News, and, well, legions of other companies, a new study conducted by Rand Corporation, Harvard Medical School, and the University of California in Los Angeles confirms workers are feeling the effects of these incidents acutely. According to the study, one in five Americans say that their workplace has a hostile or threatening social environment.
In 2015, the study's authors asked 3,066 workers to take regular online surveys that assessed their workplaces. Across gender, age, and education lines, Rand Corporation found that many American workers feel that their jobs are so demanding that they don't have time to get work done, and that they are forced to do work in unhealthy environments. Women in particular said they endured "unwanted sexual attention" at work, while young men responded that they often experienced "verbal abuse." From the researchers' findings:
The AWCS findings indicate that the American workplace is very physically and emotionally taxing, both for workers themselves and their families. Most Americans (two-thirds) frequently work at high speeds or under tight deadlines, and one in four perceives that they have too little time to do their job. More than one-half of Americans report exposure to unpleasant and potentially hazardous working conditions, and nearly one in five American workers are exposed to a hostile or threatening social environment at work. 
It's not all bad at the office: Researchers learned that four out of five Americans "report that their job met at least one definition of 'meaningful' always or most of the time" and that more than half of Americans describe their boss as supportive.