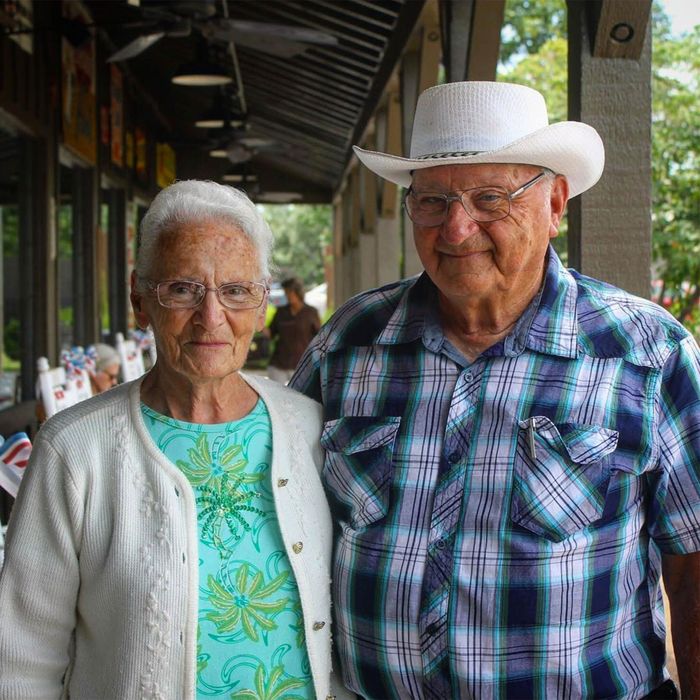 Wilma and Ray Yoder.
Photo: Courtesy of Instagram/lebanondemocrat
Your favorite celebrity couple — Ray and Wilma Yoder of Goshen, Indiana — has accomplished the impossible: They've finally visited all 645 Cracker Barrels in the United States.
We first fell in love with Ray and Wilma back in July, when we heard they had spent the past 40 years traveling around the country visiting Cracker Barrels. As of last month, they had been to 644 out of the 645 Cracker Barrels in the country — and on Monday, they finally completed their quest.
As Today reports, the couple visited the last Cracker Barrel on their list — a location in Tualatin, Oregon — on Ray's 81st birthday. And because their mission had gone viral, Cracker Barrel actually paid for their visit, and they were treated like royalty when they got there.
"When they arrived, our employees formed a 'clap tunnel' of sorts to cheer and celebrate them," Cracker Barrel spokesperson Breeanna Straessle told Today. "We gave them custom Cracker Barrel aprons with their names on them — with four stars, of course, the highest rank."
So nice to see dreams really can come true.