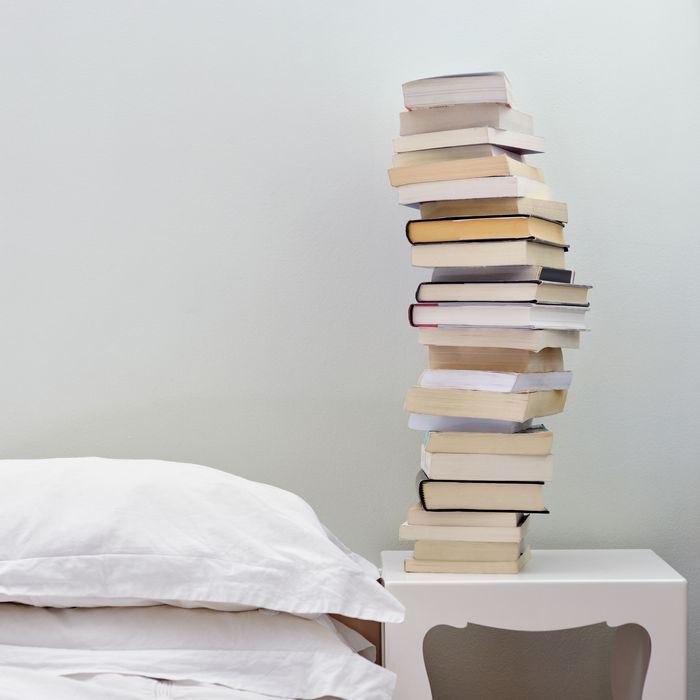 Help me!
Photo: David Malan/Getty Images
In the Cut's recurring books column, Shelf Improvement, we delve deep into our bookshelves to find recommendations that never go out of style.
Last time I counted, I had 17 books stacked on my bedside table. I counted yesterday, so as of today, I still have 17 books stacked on my bedside table in a Jenga tower ready to fall onto my face while I sleep. It's stupid to admit, but here we are: I am reading 17 books at once, at varying paces and with varying degrees of commitment, and I think it's because the internet and Instagram and group texts and faithfully reading online recipes for dishes I have no plans of cooking have slowly begun to erode my brain. I used to like reading one book at a time, from start to finish. Now I eternally dabble.
This happens with only the best intentions. I will be reading one great book, then find another good book that I want to read. Wow, two great books that I enjoy. The stack grows. And every time one falls off the stack (Scout's honor, I do finish most of the books) another three are added. Most nights, I'll select a book based on my mood — a collection of essays when I am feeling punchy, nonfiction when I need a distraction from the news, a novel when I need to get in my feelings. Having read 50 to 70 pages of each book in the stack, I know already what mood they'll put me in, so it's a little like deciding between a cheesesteak or a vegetable medley for dinner. I try not to worry too much about how I arrived at this deranged reading strategy, but I am comforted by the fact that I would have no books at all on my bedside table if I didn't find something great in so many of them.
Is your attention span on the decline like mine is? Are you looking to add more texts to your own Jenga stack? Just like a high-school book report, I would like to recommend each of the following books based on having read them roughly a third of the way through.
This is the book on top of the stack, which means it is getting the most play currently. Chelsea Martin writes great millennial essays that make you forget that "millennial" is usually treated as a pejorative. This one is good for '80s and '90s babies who grew up with AIM.
I love Kate Fagan, a journalist and columnist at ESPNW, so I was excited to see that she'd be telling the story of Madison Holleran, a Penn runner and star student who committed suicide in 2014. Unsurprisingly, it can be a little emotional, so I've been breaking it up in 20-page spurts.
I will read any and all books about mothers. If you are the same, we can start a book club together and finish this 160-page short-story collection that has some very explorations of good mother-daughter relationships by Mother's Day of next year.
Like Landslide, a book of short stories provides a nice intermittent release from a novel or a nonfiction book. Jess Arndt's writing is so strange and imaginative that it provides release from the real world, too. Pairs nicely with edibles.
Few writers will admit to it, but once every few months, we all fall into a panic thinking we are terrible at our jobs. I read a couple chapters of this book at a time to pretend that I'm back in school and still 21 and can start all over again.
After I interviewed Jessa Crispin in February, I was intrigued to see what her less contentious writing was like, so I picked up this one. It is markedly less abrasive and more personal: the narrative is memoir-esque, but intertwined with with history. I might even recommend starting here over Why I Am Not a Feminist — ease yourself in.
The galley for Alexis Okeowo's debut book of four different literary true stories from modern Africa — a book I've been really looking forward to — was given to me recently by my boyfriend's mom, and I have moved it close enough to the top of the stack that I am certain I will read at least half of it before it comes out … in October.
When a bunch of people recommend a book to you all at once, it can be fairly overwhelming. I have the tendency to put off reading a highly recommended book so I can take it in in a vacuum. I began Marlena and texted the friend who had lent it to me, "I find this very depressing." That's a high compliment!
I bought Beth Ditto's memoir a few months ago when I heard she was coming out with a solo album because I realized I loved her without really knowing that much about her. It reveals a lot about her childhood and her life growing up in Kansas; if you're just getting into Ditto's music and are curious about how she became such an icon, I recommend it. This is book I'm farthest through currently.
I've gotten partway through this nonfiction book — about a Los Angeles serial killer that journalist Christine Pelisek has been tracking for ten years — but I keep get too terrified to continue. Despite the title, not a bedtime read.
Unclear why this one is on my table. No explanation for it at all. Haven't even started it. But I bet it's good!
This Angela Davis book is technically on my Kindle, and I am only 20 percent through, because I keep forgetting that my Kindle is underneath a stack of books. Hope it doesn't break.
A close friend gave me this book for my birthday along with one of the highest recommendations I've received in a long time. She's such a beautiful writer! She captures womanhood so astutely! Reason for not reading yet? The pressure of finding the right time to dedicate my mind to it. Soon!
After reading the intro of this work of theory on race and hip-hop, I feared that I wasn't smart enough to do the whole thing yet (at least not in short bursts on my morning commute), so I put it down for when my IQ increases and/or I have more time to dedicate to it.
Are you a guitar player? Do you ever wonder how a guitar works? I recommend buying this book, as it is extremely detailed and informative, and paging through it once every two months after hearing a St. Vincent song and remembering how bad you are at playing guitar. It will boost your morale.
Everyone on Earth has read this book and I have read about 50 amazing pages of it. The edition I have is from, like, 1980. If you haven't read it yet, I can tell you that the first 50 pages are amazing. This is my book report.
I think my parents bought me this one for Christmas about five years ago — it has a very attractive bright red matte cover that calls to me from the bottom of the stack. Probably once every six or seven months, I pull it out to read one short story for inspiration on how to be a good, simple, and solid writer. Beattie always comes through.