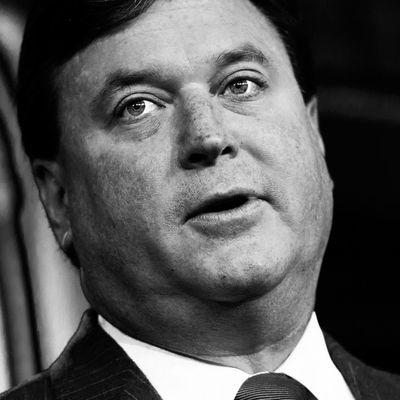 Photo: Tom Williams/CQ-Roll Call,Inc.
If you thought driving adult male Representative Todd Rokita around D.C. would be as simple as merely picking him up and dropping him off, well, think again. Because the Republican congressman — who's running in a contentious Senate race in Indiana — is nothing if not high-maintenance when it comes to his transportation, a newly leaked eight-page memo reveals.
According to Politico, the memo — entitled "Instructions on Staffing and Driving — District Version" — provides an outline on how chauffeurs can "provide as smooth a ride as possible" for Rokita when he's in D.C. That, of course, means the congressman's driver is expected to immediately hand up a cup of black coffee when picking him up at home, ensure that Rokita has his wallet and cell phone at all times, and physically shield the congressman from anyone hoping to capture embarrassing footage of him.
Per Politico:
Drivers are expected to transport not only Rokita's toothbrush and toothpaste but also stock and tote around the district a nearly 20-item supply box that Rokita's staffers call "the football." The contents include gum, hand sanitizer, business cards, bottled water, napkins and Kleenex, Lozenges-brand cough drops, a stapler and stapler remover, Post-it notes and Shout wipes, among other items.
Rokita's drivers are also expected to have knowledge usually reserved for communications staffers, including when each event was approved by his office, if reporters will be in attendance, the best spots to conduct interviews, and where he will be standing. "When you arrive at the event, get Todd a non-alcoholic drink that he can carry with him as he visits (water, diet soda, and coffee are best)," the memo states — before adding that the driver must also never allow him to be photographed with a drink in hand.
Additionally, when the drivers get to his house, they must also "back the vehicle out of the garage and turn it around so you can exit the driveway when Representative Rokita gets in the car." And at the end of the day, they're expected to empty his trash bin and go over the "football checklist" to get ready for the next day.
Rokita's campaign spokesperson, Tim Edson, who authored the memo, reportedly told Politico, "There is nothing embarrassing about always being prepared," and blamed the leak on Representative Luke Messer, who is running against Rokita for the GOP Senate nomination. But we say this is yet another example of life imitating Veep.