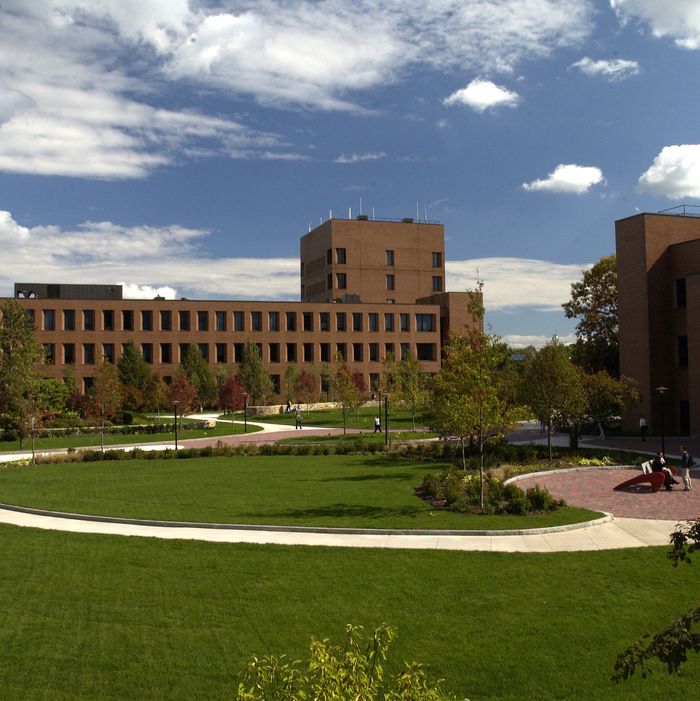 Rochester Institute of Technology.
Photo: Courtesy of Rochester Institute of Technology
Curbing sexual violence is a central concern on college campuses across the country, and harassment training has become a fixture at many orientation weeks with seminars about consent and binge-drinking. But Rochester Institute of Technology gave its freshman students an unorthodox suggestion — masturbate.
During a freshman orientation seminar on sexual-assault prevention, more than 2,800 incoming students were told to imagine that sexual encounters have traffic lights. If they got a red light, and their partner withdrew consent, they should stop and instead go home and "rub one out," or "Roo," according to six RIT students in the presentation who spoke with the Cut.
On one slide, the Disney character Roo — the young Kangaroo from Disney's Winnie the Pooh series — appeared onscreen as a presenter explained, "Self-gratification can prevent sexual assault."
Minutes after the slide appeared, audience members shared the image on Twitter and Instagram, which prompted a backlash across campus and social media. Students turned Roo into a meme, with jokes about the different times one might "Roo." Alumni were furious. Days later, RIT had to issue a message to the student body in response, and explain their thinking. RIT's president David Munson issued an apology.
Meanwhile, women on campus say now they don't feel comfortable talking about sexual assault with campus administrators. An 18-year-old female freshman at RIT, who asked not to be identified out of fear of retaliation, told the Cut, "It made me very scared to say that I have experienced sexual assault. Because now I get the impression that people on campus think it is a joke. I am concerned that if I ran into an issue like that again, or want to talk about my previous experience that it wouldn't be treated as a serious issue by administrators. It made me very uncomfortable, and I felt like I was being insulted."
The incident shows the challenges faced as campus administrators at colleges across the country are tasked with bringing 18-year-olds — who studies show have less sex education than ever before — up to speed on how to have sex like mature adults, and not violate each other's boundaries. This also comes as New York state colleges have adopted an affirmative consent, or "yes means yes" standard. Yet there is still no clear agreement on the difference between rape, sexual assault, sexual misconduct, and sincere misunderstandings — much less how to prevent all of those things.
RIT's 90-minute PowerPoint presentation was titled "Alcohol and Chill." It was mandatory for freshmen, and the goal was to "increase awareness and promote discussion about how to prevent sexual misconduct," according to a press release. The event was designed by the Student Counseling and Psychological Services Office, Center for Student Conduct and Conflict Mediation, Center for Women and Gender, and the office of the Title IX Coordinator.
Annie E. Clark, the co-founder of End Rape on Campus, says that RIT's approach is deeply flawed as it makes light of a serious crime and presents an overly simplistic view of what constitutes sexual assault.
"I think they need a new presentation and to apologize to their students," Clark told the Cut. "Students need accurate information that explains that sexual violence is a serious crime; they need to know that if they choose to commit this crime there will be consequences. This solution of masturbation that the school presented is overly simplistic, and not helpful, and not accurate. Sexual violence is a targeted crime that people choose to commit, and to reduce it to something that can be solved by masturbating I think is highly uneducated and very misguided."
RIT officials now insist the slide was misinterpreted.
"The overarching goal was to increase awareness and promote discussion about the ways we together can prevent instances of sexual misconduct on our campus," Senior Vice-President for Student Affairs Sandra S. Johnson, said in a statement. "Unfortunately, one slide, out of 77, taken out of context, has sparked controversy, mainly on social media surrounding the entire program."
RIT declined the Cut's request for an interview, but Darci Lane-Williams, director of the Center for Women and Gender at RIT, discussed the presentation in an interview with Rochester's local radio station WXXI . She emphasized that RIT developed the program to give students specific tools to navigate sexual situations.
"We didn't want to have your typical conversation about rape," Lane-Williams told WXXI. "Everyone knows that rape is wrong, we have all watched enough Law & Order SVU to know that rape is wrong, we want to talk to you about what do you do when you are in a situation with a partner where you are trying to figure out what are they communicating to you, what are you communicating to them."
Lane-Williams said administrators designed the presentation knowing that many freshmen RIT students haven't even had basic sex education when they arrive at college.
"We know that comprehensive sexual education is not available to many of our students. In addition, many families don't talk to their young people about sex," Lane-Williams told WXXI. "So what happens is they come to school, they are put in adult situations with minimal supervision, and they are asked to navigate these situations with no understanding."
With this in mind, Lane-Williams said the school wanted to give students specific ideas about what to do in unfamiliar sexual situations.
"If we are saying to sexually inexperienced young people, don't rape someone it's bad, and that is all we are saying, what are we telling them to do?" Lane-Williams told WXXI. "We wanted to give students tools they could use when they left that program so that when they find themselves in a sexual situation that isn't going where they want it to go that they have options, and [understand] their sexual satisfaction is their own responsibility."
Meanwhile, on campus, the presentation became a campus-wide joke. "Almost within a few minutes of the presentation, people were making memes out of it and sending them around," Nicholas, 19, a freshman at RIT, said. "Someone even went so far to make a mobile app that has a button that when pressed says, 'Roo.' Everyone gets a great laugh out of it."
But he added that the message didn't really make sense: "I do think that telling kids to just go masturbate instead of sexually assaulting someone is a little pointless and doesn't really correlate."
Other young men took the message literally. "It informed people that there is another way to relieve their urges other than forcing yourself on someone when they withdraw consent," Christian, 18, a freshman at RIT, said. "I think there are probably other issues that could cause sexual assault, but I think [sexual frustration] is one of the main things, and that is why they chose to address it."
Despite the controversy, Lane-Williams said the school stands by the decision to give students specific tools — like the suggestion to "rub one out" — although they might change the image in the future.
"I guess if we had to do it again we might use a different image," Lane-Williams told WXXI. "But I don't think we would use a different acronym."