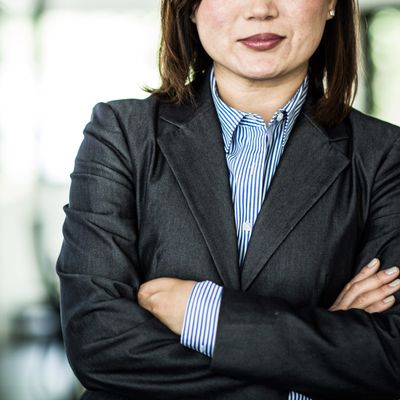 A new report looks at gender parity in business.
Photo: MoMo Productions/Getty Images
Ladies, hold onto your DeLoreans: One in four Americans apparently believe people will be able to time travel before half of all Fortune 500 companies will be headed by women, according to a new survey released Tuesday.
The Rockefeller Foundation's new "Women in Leadership: Tackling Corporate Culture From the Top" report took a look at the issue of gender parity in the workplace. Although women make up 47 percent of the workforce in the U.S., the report found gender inequality among all ranks of the business world, including at the top of Fortune 500 companies — only 6 percent of which have female CEOs. That number has apparently never risen from that point since 1955.
To address this issue, the Rockefeller Foundation embarked on its second annual study as part of a campaign to increase the number of female CEOs at Fortune 500 companies to 100 by 2025. They conducted a national poll of over 1,000 adults in May, and found that while the majority of adults believe women are just as qualified as men to lead businesses, very few believe that women are given the same leadership opportunities as men. As for why women are struggling to make it to the top, 65 percent of respondents — including 90 percent of females surveyed — found that the attitudes of men in leadership positions play a barrier.
But perhaps the most surprising tidbit in the report is the fact that so many Americans find time travel to be more likely than gender parity in this lifetime. Nice to see that the plotline of Outlander makes more sense than equality to so many people.