Sarah Sutherland is thrilled to be back in her old stomping grounds. For the 29-year-old Veep star and alumnus of NYU's Tisch School of the Arts, being back in the East Village is like unlocking a trove of memories: her first apartment on St. Marks and 2nd, now an iPhone repair shop; the café where she used to go to flirt with the cute barista, now taken over by a Flywheel and CVS. "The summer after I graduated, when I was moderately losing my mind, I would go there and allegedly write and just ogle him," she tells me over dinner at Cafe Orlin on St. Marks. "I wore kind of like punky things and I had unkempt kindergarten hair that looked like I had a mother that didn't really love me, because I never brushed it."
When we meet on a balmy June evening, Sutherland's aesthetic is more private-school-gal meets Nasty Gal: a maroon blouse and matching nail polish, a yellow satin miniskirt with a floral pattern, a seafoam green Philip Lim backpack, and large black sunglasses. "I've been getting migraines that make me sensitive to light, so I've been wearing these dramatic, movie-star glasses and people probably think I'm a full douchebag," she confesses. Yet while she may not shop at East Village grunge-haunts like Trash and Vaudeville anymore, her vibe is bright-eyed theater kid rather than Hollywood douchebag – which makes it easy to forget she's also bona fide acting royalty. "I feel like such an impostor," she admits guiltily when I ask her where she's staying this trip. "I'm staying in a family friend's gorgeous three-bedroom Tribeca apartment by Canal right now and she's away in the Hamptons for the summer. It's almost uncomfortably fancy."
In an era where every Fashion Week runway boasts a celebrity scion trading on a famous last name, Sutherland has accomplished an impressive feat: even for fans who have seen every episode of Veep — on which she plays Catherine Meyer, daughter of Julia Louis-Dreyfus's former veep turned POTUS turned disgraced ex-President Selina Meyer — you might still have no idea that she is Kiefer Sutherland's daughter. "I was very adamant that I wanted to arrive at navigating the industry in my own right without help from them, and that was a big part of my going to theater school in New York," Sutherland tells me, referring to both her dad, the 24 star, and grandfather Donald Sutherland.
"She was really aware of really wanting to find her own way," her dad tells me. "And this wasn't just a fear of nepotism. This was someone who really wanted to just navigate her own life."
Sarah had a "normal upbringing," she says, at least within the context of the artsy Hollywood world she inhabited. She played electric bass in a band, watched a lot of old movies, and fell in love hard and often. "I'm a supremely romantic human being," she says. "I had a very serious boyfriend when I was 13, and we had matching dreadlocks in our hair from making out so much. We would write each other these psychotic love letters like he was going to war, even though he only lived 15 minutes away." Of the difficult parts of having a famous father — his drinking, the tabloid dramas — she implies only that it has made her a private person. "I think what it did was it gave me a more realistic perspective of what I was potentially entering into, so it gave me the power to understand the ways it was difficult and choose to do it anyway."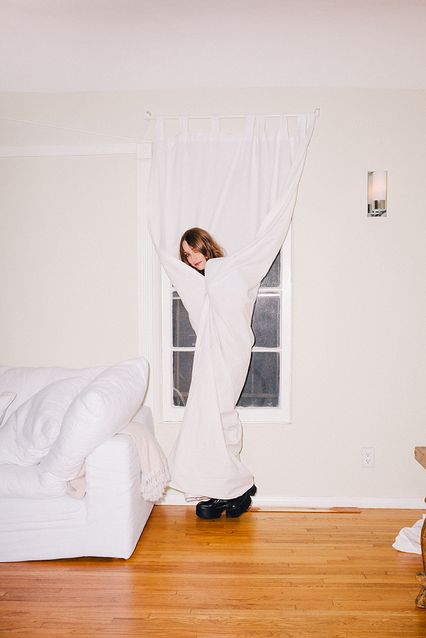 After high school, Sutherland moved to New York City to study in Tisch's experimental theater wing, where she fell in with a tight-knit theatrical community. "I wish everyone could do acting training, because I think you just become a better communicator. I feel like I got the secret key to people's moods, or what they're hiding or what makes them happy," she says wistfully. "Some of the most challenging and demanding and complicated characters I've played have been within the four walls of Tisch. I think it helps you kind of redefine your idea of success where you're not just governed by industry things or how well reviewed or popular something is."
Sutherland had never had an onscreen role — and still had the lease on her East Village apartment — when she read for a role on Veep with casting director Allison Jones, the legendary "nerd hunter" responsible for populating most of the Feig-Apatow cinematic universe, dating back to Freaks and Geeks (according to The New Yorker, Jones has a natural eye for 'Paul Feig Types' – "well-meaning nerds who are endearing in their benevolent oddness"). Unlike the rest of the Veep cast, Sutherland didn't have a comedy background. Yet Jones saw something special in her, and the chemistry read with Julia Louis-Dreyfus sealed the deal. Straight out of Tisch, she landed the part of Catherine Meyer, Selina Meyer's gawky, naïve punching-bag of a daughter on Armando Iannucci's scathing Capitol Hill satire. "I went [back to L.A.] for what was supposed to be an extended vacation and then just ended up never leaving," she recalls. "I honestly think in a weird way, some part of me knew that I might not come back but I couldn't deal with it directly because I loved New York so much and it was so hard for me to deal with looking in the eyes of the people that I loved and saying good-bye."
Sure enough, what began as a small role has grown and grown over the course of Veep's six seasons. Unlike the rest of the acrid, insult-slinging sociopaths that populate the show, Catherine has a genuine sweetness to her, making her the emotional center of a show that often does little to humanize its characters. Hearing Selina browbeat Catherine — for her hair, her clothes, her general demeanor — often feels like the verbal equivalent of watching a baby get spat on, or a doe get punched in the face."My first impression of her was that she was so real, it didn't seem as if she was acting," recalls Louis-Dreyfus. "Her ability to stay in a vulnerable place matches up really well with Selina's wickedness, which makes the scenes between them even more horribly funny."
While other characters on the show are characterized by their inability to evolve or learn from their mistakes (Veep often seems to echo Larry David's Seinfeld credo: "no hugging, no learning"), Catherine is one of the few characters who has experienced personal growth over the course of the show. While she is still subject to her mother's constant volleys of abuse, Catherine is no longer the sullen, awkward college student who skulked around in the corners of the White House on season one. In season five, while shooting a student documentary about the election ("Kissing Your Sister," one of the show's best episodes), she fell in love with her mother's Secret Service agent, Marjorie (Clea DuVall). This past season, they had a baby together. As she has come into her own, Catherine has found a new level of happiness and self-confidence. "One of the words I use a lot when I'm applauding a performance that isn't mine that I really like is generous," Sutherland says. "I think that there's such a trend, and it might have to do just with the state of the world right now, of apathy that is so enacted and so not cinematic and not interesting to watch. I think as an actor it's your responsibility to have those walls be movable."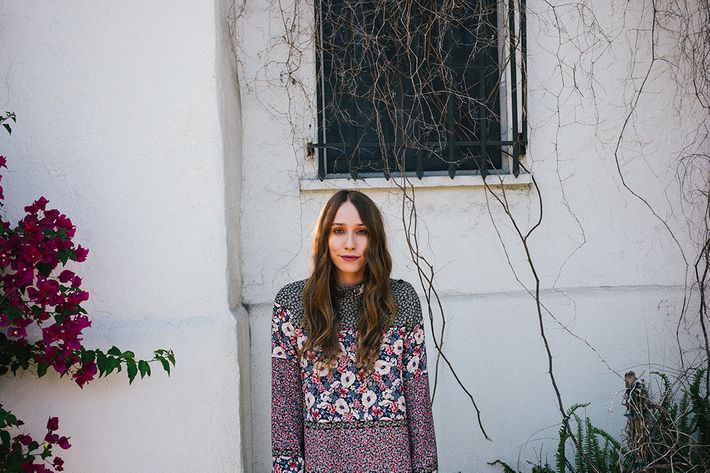 Sutherland says she wants to be known as an actor who can shape-shift and embody characters that are different from each other – both on camera and onstage, in dramas and comedies – in addition to writing her own stuff. Beyond Veep, she has had the chance to stretch her range in a string of diverse indies: Chronic with Tim Roth, Beneath the Harvest Sky with Emory Cohen, and an upcoming family drama titled What They Had, starring Michael Shannon and Hilary Swank. "I like weird characters, I like angry characters, I like emotionally undone characters, I like eternal characters, I like characters that are messes. I think I'm most attracted to that kind of wounding of a character," she says.
It's clear that Sutherland takes acting very, very seriously. When she talks about actors and movies and playwrights she likes, she looks almost overcome with emotion. She tells a story about being so anxious about her first day on set of Veep that she didn't pee the whole day. Describing a performance by Michael Shannon in Our Town on Broadway, she gushes: "I wish so much that I could encapsulate that in a snow globe and hand it to you so you could see it and experience what it felt like."
Given the career she wants, it seems inevitable that Sutherland will one day no longer be able to walk the streets of the East Village without being stopped for a selfie or tapped on the shoulder for an autograph. Still, she admits that if she could somehow get the roles and work with the directors she wanted without being famous, she would choose that in a heartbeat. "I have no interest in making myself more visible or people really knowing much about me beyond my work and general disposition," she says. For now, though, she's preserving what privacy she can; she has no social-media presence and describes herself as a bit of a "social alien" when it comes to the world of likes and regrams and retweets.
I mention that I have to use Twitter for work, and she perks up. "Can we tweet something? Can I tweet something from your phone?" I gamely hand it to her and she looks at it in horror, like I've just handed her a live grenade. "Don't let me. Don't give it to me."
Yet Sutherland knows that anonymity isn't something that can last forever. "I'm also seeking some old-world value that doesn't really exist anymore — the idea of anonymity as an actor being so important is actually, often, antithetical to progress. So I know I have to sort of manage that," she says.
Having narrowly avoided her brush with social media, we leave the restaurant and stroll through toward a nearby dive bar, where Sutherland is having drinks with an old Tisch friend. As we walk, Sutherland continues to regale me with memories every time we see something that strikes a chord: Jules Bistro, where she used to drink on the front stoop with her three best friends; Bowery Ballroom, where she went to a Rocco DeLuca concert with her dad and cried because the music was so beautiful. Despite her rising profile, Sutherland seems happiest recalling that fresh-faced theater student clomping around St. Marks with unbrushed hair, latched onto the arm of a boy she loves. "It feels like some ghost tour of a former version of myself that was both the biggest mess on the planet and somehow also the most powerful version of myself," she says wistfully. "I just can see younger Sarah with like ten bags slung over her shoulder wearing combat boots going to rehearsal. It makes me so happy."
Produced by Biel Parklee.