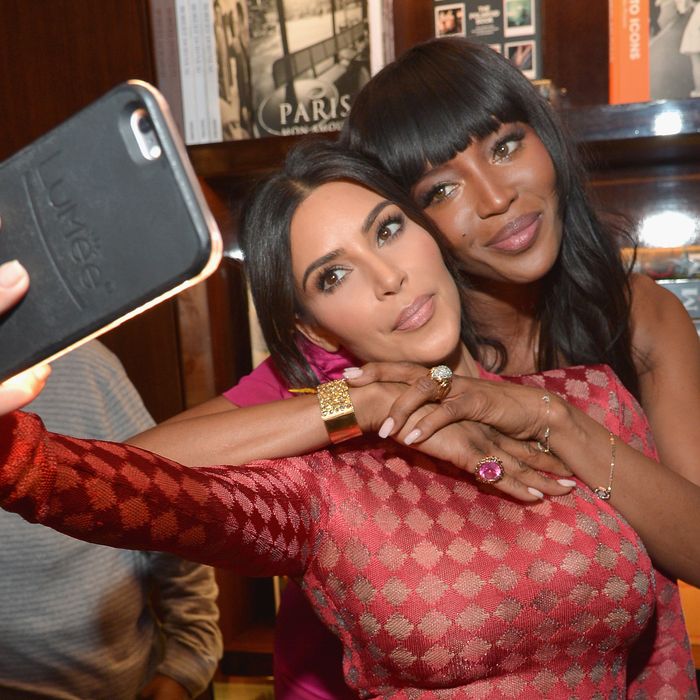 Kim Kardashian and Naomi Campbell.
Photo: Charley Gallay/Getty Images for Taschen
Despite her lifelong devotion to the medium, the Selfie has finally turned against Kim Kardashian. On Monday, Kardashian's company Kimsaprincess Inc. (real name) was sued for its endorsement of the LuMee phone case, according to The Hollywood Reporter.
The $100 million patent-infringement suit was brought by Hooshmand Harooni, who filed the patent in 2013 for an "integrated lighting accessory and case for a mobile phone device," which he then licensed to Snaplight. Harooni claims Kardashian's outsized social-media influence and repeated endorsement of the LuMee phone case, a Snaplight competitor, has cost him financially.
"Despite having superior, patented products, it has been extremely difficult for Snaplight to compete in the selfie case market against Ms. West's product influence and Defendants' ongoing infringement. Snaplight and Mr. Harooni have suffered financially as a result."
Kardashian has promoted the LuMee light-up phone case numerous times on her social-media accounts, including a selfie with then-presidential candidate Hillary Clinton in January 2016. (Even the influence of a political dynasty like the Kardashians couldn't help Clinton, it seems.)
In addition to the $100 million in damages, the suit asks that the court prevent Kardashian from further promoting the LuMee cases. Harooni is also suing Urban Outfitters for having "benefitted financially through increased sales of the LuMee selfie cases."
In a statement to ET, a rep for the Kardashians said: "The patent lawsuit filed by Snaplight has no merit and is just another attempted shakedown. Kim has done absolutely nothing wrong."
A LuMee rep also added that the suit had "no merit" and Kim had "done nothing wrong." The company has reportedly said it plans to file its own patent-infringement suit against Snaplight.
In the meantime, Kardashian may or may not be preparing for baby number three. Only time and well-lit selfies will tell.