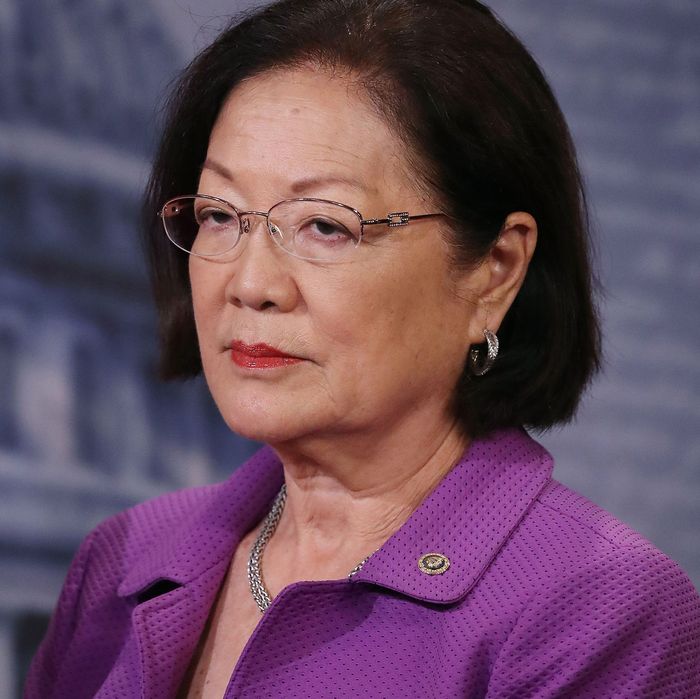 Hawaii senator Mazie Hirono.
Photo: Mark Wilson/Getty Images
It was nearly midnight on Thursday, July 27, when Mazie Hirono addressed her colleagues on the Senate floor. Senate Majority Leader Mitch McConnell's third attempt at repealing the Affordable Care Act was in play, and the bill's status was uncertain — would enough Republicans oppose it? Or would it get the votes to eke by? Hirono, who announced in mid-May that she'd been diagnosed with kidney cancer, hadn't planned to speak that night, she told the Cut. But as she sat there, she began to jot down some thoughts.
"I thought, if this is the last night that we're going to deal with a bill that would ultimately leave millions of people uninsured, what more can I say?" she said. "I felt moved to connect with people in a personal way. You really have to expose yourself when you go down that path, but I decided that was what I was going to do. So I asked [Senator] Patty Murray if I could get in the queue to speak."
The resulting four-minute speech was shared thousands of times on social media. In it, Hirono fought back tears as she talked about her sister, who died of pneumonia in Japan when she was 2. She also addressed her own cancer diagnosis, describing the outpouring of support she'd received from her Senate colleagues. "Where is that compassion tonight?" she asked. In the end, three Republican senators answered her, voting "no" on the bill and effectively tabling it. In the aftermath of the vote, Hirono talked to the Cut about the ongoing health-care fight, the fumbling Trump administration, and what she thinks about John McCain's dramatic 11th-hour vote.
What was going through your mind during your speech last Thursday?
I was really thinking about how I could get through it because part of my story was about my sister, and I had never talked about her before. I think you could tell that there was a lot of emotion in it for me — it was very difficult.
Immediately afterward, Heidi [Heitkamp], who was sitting next to me and is like a sister to me, gave me a hug. She said, "I know how hard that was." And that's what really guided me: that need to show compassion. The millions of people in our country with severe health-care needs needed to know that many of us in the House and Senate have those kinds of concerns, too.
Speaking of your colleagues, what would you say to Lisa Murkowski and Susan Collins, who voted "no" on the bill?
I consider Susan Collins and Lisa Murkowski to be strong, principled leaders, and I was very grateful to them for staying the course and fighting their own caucus — I think more attention should be given to them, and going forward, I expect both of them to be committed to working in a bipartisan way. Women are problem solvers, and often we don't get much credit for that because the typical image of a leader is someone who's loud, obnoxious, chest-pounding. That's not my vision of what true leadership is; true leaders are the ones who work with great commitment to get something done. And these two women exemplify the kind of leadership I've sought to follow.
What about John McCain?
I have a lot of respect for John McCain, and I'm really glad he voted the way he did — it was quite the moment. [But] it took all three Republicans to have the courage of their convictions.
After the vote, many people compared McCain's diagnosis to yours. What's your response to that?
I'm not surprised that the dramatic vote would get a lot of press, but I take nothing away from the attention given to John McCain. I'm really very surprised — in a good way — that so many people across the country have acknowledged my situation. I've heard from so many people who listened to my speech, and it's reassuring because it means we're all in this together.
What do you think happens next?
It's not over yet. There will be further attempts to undo the Affordable Care Act, starting with the president's own calls to sabotage the law. And frankly, I consider it to be totally unconscionable for the president of the United States to basically say that we're going to make sure that the ACA implodes. He's a big bully, and his administration doesn't seem to be able to govern at all.
Why do you think Trump is so adamant about pushing a health-care bill through?
Well so far he hasn't gotten much done, and in fact the White House is in chaos, the latest [evidence] being the resignation of Scaramucci. So I think the president really doesn't care what comes through, as long as something comes through that he can sign. So the way I look at [it] is that the adults among us — the ones who care about what's going on in the country and the kind of bills that we propose — will get together and work in a bipartisan way.
I mentioned this Thursday night, but after my diagnosis my colleagues — many from across the aisle — sent me heartfelt notes and shared stories about cancer or other major health issues in their own families. So it was astonishing to me that they could turn around and vote for a bill that would hurt millions of people in our country. Where's the compassion in that? It's gotta be some kind of compartmentalization. My hope is that we can break those barriers down.