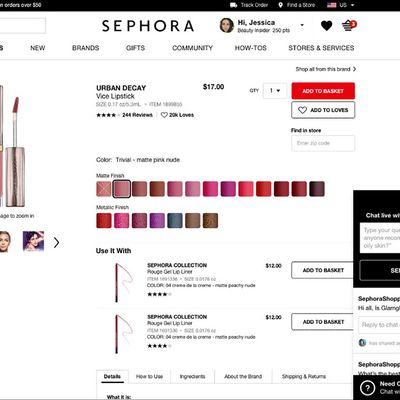 Sephora's new Beauty Insider Community.
Prepare to spend even more hours browsing the Sephora website. Sephora is creating Beauty Insider Community, one of the world's largest beauty forums, melding together several of the most popular online features. Community combines Beauty Talk (now rebranded as "Groups"), its "secret" Reddit-like forum, Beauty Board ("Gallery"), its gallery for user-submitted photos, and Ratings & Reviews, its review system. Beauty Insider Community is live now (see the large header "Community" available now on the Sephora page) and everyone can join so long as they're part of Sephora's membership loyalty program.
There are also a few other additional features in the works. A new filtering system called Beauty Matches will allow users to filter content from the Community specific to their traits and needs. On August 22, users can also ask for purchasing advice live from other members of the Community. Each product page will feature an option called the Live Community Chat.
With former Sephora Beauty Talk superfans spending up to 36.5 hours on the site a week, Beauty Insider is a smart move by the brand to try to gather more marketing insights about its users. Get ready to fall into an S-hole.