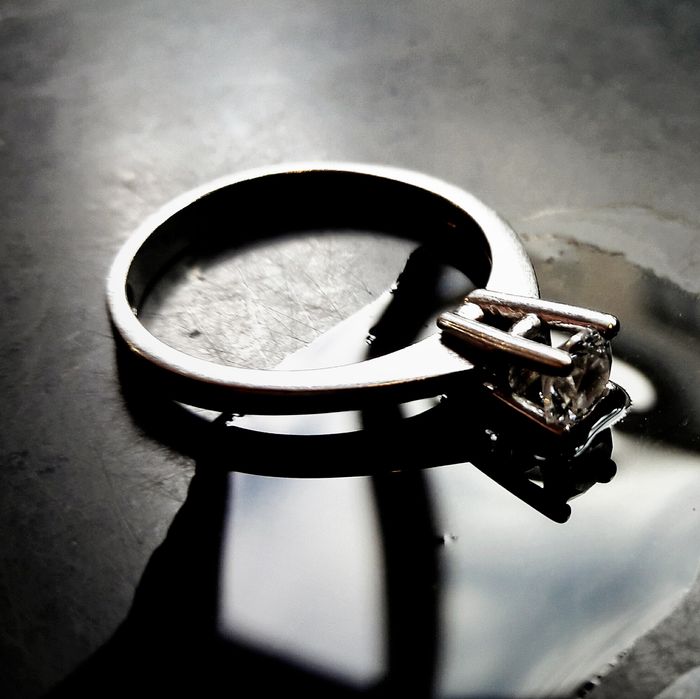 New York's Sex Diaries series asks anonymous city dwellers to record a week in their sex lives — with comic, tragic, often sexy, and always revealing results. This week, a managing director at a start-up: 30, straight, married, Tribeca.
DAY ONE
8:35 a.m. As soon as I wake up, I open Tinder and see I've matched with a cute artist/musician, BKAM, 38. I can't count on my current fling, Viking, 39, because he gets really busy. I message BKAM. We exchange numbers and plan to meet at a bar later. For dates like this, I lie and say I'm either divorced or separated. I'm listed as single on dating sites, and have no relationship status on FB.
I met my husband, M, when I was 15. We dated on and off throughout high school and college. We took lots of breaks, but eventually ended up together for the long haul. I loved his "bad boy" personality and, of course, his good looks. But as a grown-up, he's a bit boring — in life and in bed. He has no idea that I have affairs … he travels a lot for work. He doesn't know about my affairs, and as far I know, he's not having any. I wouldn't care if he did.
10:53 a.m. Viking texts me as soon as I get into my office. I met him on Bumble. He's separated and has kids, and he's hard to read, but I'm positive that I mean more to him than just a fling. Our affair started in early July, and I'm scared it'll run its course soon. It's hard to see him because he lives in Connecticut, works a lot, and won't take me out in public. I get it. I send him a picture, and he tells me I'm pretty.

6 p.m. I finish working and make my way to meet BKAM. I'm not looking forward to it. Why can't I just be happy with Viking?
6:45 p.m. BKAM turns out not to be cute at all. He's also a little strange (and leaves four times to smoke weed), but he's fun to talk to. He gets a kick out of me being in the marching band in high school.
9:30 p.m. Drunkenly, I let BKAM come back to my place. He smokes in my apartment and makes a mess. He also helps himself to my liquor cabinet. I don't have any mixers, so he mixes rum with my Beyoncé lemonade. EW WHY.
11 p.m. We have terrible sex. He leaves midway to smoke and drink more.
12:30 a.m. I want him to leave, but he comes back. I tell him to hurry up and finish. When he does, it sounds like a little girl squealing.

2 a.m. I kick him out, Febreze my apartment, and strip my bed.
DAY TWO
10:30 a.m. I show up to work late, tired from my shenanigans. What was I thinking? I text Viking to make myself feel better. He can't come over after work, so I make plans for "wine lunch."
1:54 p.m. I go to a bar with my assistant, MJ, 21. We regularly have wine lunch, but we're kind of responsible about it. MJ is a great assistant but an even better friend. We're taking drunk Snaps.
2:45 p.m. MJ and I share a joint on the way back to our office.
4:30 p.m. We play flip cup — the joys of working at a start-up. Viking still can't come over, so I make plans with my BFF, S.
5:30 p.m. I meet S and we head to a bar where we order our usual: Champagne and fries. I don't miss my husband.
6:20 p.m. I'm feeling drunk and sexy, so I decide I should snapchat my fuckboy, BP, 30. We slept together two months ago, after I met him at a work event. He's sweet, charming, and British; I'm a sucker for an accent. Unfortunately, I lost my shit immediately after we slept together because I went off my anxiety meds, flipped out, and he ghosted me. I probably deserved it, but now I'm drunk and invincible! S and I find a sexy picture and I snap BP with the caption: Your loss. BP responds that he wants to see me.
8 p.m. I go home to get ready to see BP. We keep snapping back and forth.
10:15 p.m. BP tells me to leave now, so I grab an Uber in nothing but my trench, Louboutins, and a pair of Wolford's — the kind you pull on one at a time.
10:30 p.m. I meet BP outside his building. He unlocks the door, and we head up the stairs. His hands are already up my trench. Good; I feel in control. We kiss and I pull away and slap him. He's surprised. Take that, ghoster! My plan's in motion.
We have angry, passionate sex until I come, and then I get up, put my trench and Louboutin's back on, and say: BOY BYE. I walk toward the door, but he pulls me back for a kiss. I win! We fuck some more, and I let him come on me. This time I demand a towel. The last time he came on me, he gave me toilet paper. Asshole. I leave immediately after.
DAY THREE
9:30 a.m. I work from home. I don't text anyone.

7:30 p.m. My husband's home. M and I get high, watch Netflix, and go to sleep.

11:28 p.m. I can't sleep, so I open Tinder. I've matched with HP, 35. He immediately messages me, and we make plans for later in the week.
DAY FOUR
9:30 a.m. I work from home again. (I'm the boss, so I can do whatever I want.) I'm counting down the hours until M has to leave for the airport. He feels more like a roommate now than a husband. While I'm waiting for M to leave, I text Viking, saying I'm home and he should visit.
11 a.m. Bye, M! I'm free …
3:15 p.m. I tell Viking to come over. He responds with: Yes ma'am. We've been sending dirty texts all day.

3:45 p.m. I text my official date for the night — GKP; we met on Tinder a few weeks ago — and say I'll be closer to seven. I'm hoping Viking stays longer so I can cancel. I nearly run home because I'm so excited. I need to get my apartment ready.
4:20 p.m. First, I take down all of the framed pictures that have M in them. Then I remove all evidence of his existence from his side of the bed. Finally, I double check that I'm not wearing my wedding and engagement rings (not that I wear them a lot these days).
4:30 p.m. Viking finally arrives! He so fucking hot. Something is different though. I can sense it. I know this is it. We both caught feelings and fell in love — and now it's ruined.
We have mind-blowing sex on my kitchen counter. He's much taller than me, so the kitchen counter is a struggle. At one point, he actually leaves and goes into my bedroom to bring me a pillow. The angle is funny, and I tell him I feel like I'm at the gyno. I never take off my dress. Viking makes me come like no one ever has before.
Before he leaves, there's an excessive amount of cuddling, kissing, and talking. I know I'll never see him again, but regret nothing.
6 p.m. I suck it up and get ready to meet GKP. Two guys in one night. I don't shower. Viking is all over me. His scent, his sweat … all of him. I don't care.
6:30 p.m. I leave to meet GKP and take the subway in the wrong direction because I'm distracted.
7:05 p.m. I finally make it to the bar. GKP's cute, and he's got a cute accent too! He's very quiet, but we have a great time and go to another bar so I can get fries. He's sweet — I want to fuck him.
9:30 p.m. We call it a night. He walks me to the subway and holds my hand. Eventually we stop and he kisses me. He's a fantastic kisser, maybe the best. It's nice to kiss someone in public … BP wasn't into PDA, and Viking and I never had the opportunity.
9:58 p.m. At home, I get high and turn in early, patting myself on the back for seeing two guys in one night. But I'm still sad about Viking … I know it's over between us.
DAY FIVE
10:08 a.m. I don't have anything pressing to do at work, so I open Bumble. I've got a new match, ABJ, 32. ABJ lives on the UWS. We decide to meet in the middle, which is Times Square. I let him pick the place … and what he chooses is very Hooters-esque. I agree because I want attention.
8:30 p.m. I meet ABJ after working late. I get to the bar and immediately want to leave. Unfortunately, ABJ is right behind me. I see him and am disappointed: He's dressed in black shorts, a black short-sleeved button-down shirt, black shoes, and a greasy man-bun. He's also about an inch taller than me (I'm five-foot-one). He suggests we go next door to a wine bar, so I give him a second chance.
9 p.m. I'm having a nice time. The conversation is fantastic, actually.
10:15 p.m. I get up to pee and ABJ pays the bill. I feel terrible because I ordered expensive wine, assuming we'd pay separately. I feel like I owe him. We get outside and he grabs my hand. I let him because I'm tipsy. We walk to the subway and he kisses me. It's bad — he's licking my face. He suggests we go back to his place. I tell him I'm not going to fuck him. He says that's okay, so I say fine. We make out in the cab. It's disgusting.
10:35 p.m. His studio is all black, and he has action figures in glass cases. I need to leave. He starts licking my face again. He can't get my bra off. He says he doesn't know why, because he used to work at Victoria's Secret. I say I'm a grown-ass woman, and I shop at Agent Provocateur. He never gets it off. I tell him again that I won't fuck him. He says we can dry hump instead. WHAT?!
10:45 p.m. We move from his couch to his black shag rug. He goes down on me. It feels like what I imagine covering my pussy in peanut butter and letting a dog lick me would be. It's terrible. I fake it for five minutes and pull my pants back on. He says he'll call me an Uber. I give him a fake address.
10:50 p.m. My Uber is here, thank God!
11 p.m. At home, I tell myself this is what I get for trying to replace Viking. I shower, smoke a bowl, and go to sleep.
DAY SIX
10:35 a.m. I get to work, late again, and I've got a text from ABJ saying good morning. I ignore him.
11:05 a.m. I get another text from ABJ saying he had a great time and can't wait to see me again. I respond with: Thanks! Busy!
3:30 p.m. I get yet another text from ABJ telling me he's buying socks. I block him. I'm seeing GKP tonight.
6 p.m. I rush home to get ready to see GKP.
7:15 p.m. We meet at a bar to watch stand-up. I'm wearing a low-cut shirt and a bra that you can see through my shirt.
10:30 p.m. The show is over, and we go back to my place for another drink, where we have some wine and watch Netflix. I end up on his lap kissing him. He doesn't have any problems taking off my Agent Provocateur bra.
10:50 p.m. We have drunk sex. I want him to spend the night, but he says that he didn't sleep well the night before and has trouble sleeping in other people's beds. I understand because I'm the same way. He leaves.
DAY SEVEN
4 p.m. I wake up late, very late, and don't drag my ass out of bed until the late afternoon. M is on his way home, and I'm meeting HP. I say I'm seeing a show with a friend. It's so easy to lie to him. He doesn't even ask any questions. Part of me wonders if M secretly knows about all of my other men. I could see that happening actually. If M did secretly know, he would never confront me about it because he doesn't want to lose me.
8:30 p.m. I meet HP, and he's lovely. I immediately want to kiss him, but I don't. I let him hold my hand, and we talk over drinks.
10:15 p.m. HP kisses me, but I'm wearing my signature red, so I pull back. I congratulate him on such a bold move. I like it. I like him.
10:45 p.m. HP takes me to another bar where we meet some of his friends and listen to live music. I'm smitten. I want to kiss him all night, and I don't care how much red lipstick I get all over my face.
11:20 p.m. HP asks me if I want to go back to his place for more wine. I say yes. We grab a cab and kiss the entire trip.
11:35 p.m. After a quick detour to buy some coke for his friend, we get to his place. His cock his huge. We have sex for hours. I come four times. It's the most passionate sex that I've ever had in my entire life.
2:30 a.m. HP wants me to stay the night, but I'm not ready for that. He walks me to the subway and we take selfies in front of the Chrysler Building. He's so happy. I wonder what life would be like if I were with him instead of M. That's my problem — the grass is always greener. As I walk down the stairs to catch the subway, I text M to tell him I'm on my way home and that my friend and I went dancing after the show. He buys it, just like I knew he would.
3 a.m. I get home, take a quick shower, and climb into bed next to M.
Want to submit a sex diary? Email sexdiaries@nymag.com and tell us a little about yourself.