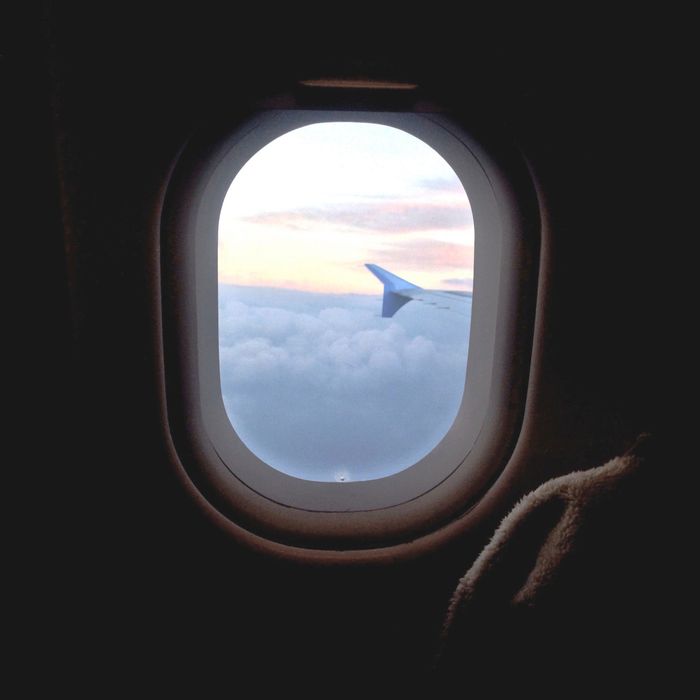 Photo: Michael Arraraz/Getty Images/EyeEm
Get Sex Diaries delivered every week.
New York's Sex Diaries series asks anonymous city dwellers to record a week in their sex lives — with comic, tragic, often sexy, and always revealing results. This week, a 28-year-old content strategist living at home and excited to escape to Ireland for a holiday: single, straight, Long Island.
DAY ONE
5:37 p.m. I'm listening to this sad playlist my ex, a steamfitter, made me almost a year ago. He's a piece of shit but I miss him — especially his taste in music and the way he pulled my hair. We'd known each other ten years before I have him a shot. He jokingly called me "the one that got away."
He was a skinhead when I met him. Not like a racist skinhead but the kind who watched American History X and Romper Stomper too many times and was really into ska. I just have a thing for bad boys — I think tattoos, Doc Martens, and flight jackets are sexy. Now he has the staple alt-right haircut and beard. It's sexy, but he's still a dick and I'm still a liberal with loose convictions. So here I am: repulsed by the idea of him, and repulsed by idle thoughts about missing him. Gross. Maybe I'm just bored.
5:40 p.m. My train is late, what a surprise. I need to get off Long Island and Manhattan. These two islands are feeling tinier and tinier lately. Thank god, I'm off to a different tiny island this weekend: Ireland. I've got a thing for the lads, turns out, and they have a thing for me too. There's no such thing as a dry season in Ireland. Not ever.
The Ireland thing started as an Eat, Pray, Love–type millennial fit in the aftermath of a very bad boyfriend. (It was more like drink, drink, love though.) I loved my time in Ireland so much I got a job in Manhattan working for an Irish company that would allow me to travel back and forth to Dublin whenever, and my ultimate goal is to move there, at least for a year, before I turn 30. There's a year and a week left on the clock.
I have a degree in journalism but ended up working in marketing because the pay's so much better. I have Champagne taste, though, so I also work for a reality-TV network. Which means late nights dishing on D-list reality-star drama instead of dating.
6:10 p.m. Listening to that playlist still. Thinking about the time the Steamfitter sang "Slow Dancing" into my ear at a show.
I should stop listening to this — it's fucking with my head. But it's so good, minus the Tom Waits songs. I fucking hate Tom Waits.
7:47 p.m. I'm finally home and all I want to do is lie on the floor and let my dogs shower me with unconditional love. Dogs are better than most humans. I can confidently say that because I have a better track record with bringing home stray dogs than I do with men.
DAY TWO
5:45 a.m. Snooze at least five times. I don't even know why I bother — no matter what time I wake up, my mom will want the shower the same time as me. I know, I'm too old to live at home still. Life's hard, blah, blah.
7:45 a.m. A friend of a friend invites me to a fashion-industry event — Rebel Wilson is launching a plus-size line. I'm a body-positive girl, and my size has never kept me from anything that I wanted. Guys love a curvy girl with tattoos and confidence — but the likelihood of meeting straight men at a plus-size fashion-line launch is probably way less than zero.
7:48 a.m. I flip through my dating apps on the train and switch my location to Dublin to line up the lads for next week. I've been single for way too long … probably because I spend more time chatting with boys on the Emerald Isle than this one. I have a few fail-safes in town but a new fella wouldn't hurt.
8:48 a.m. I chain-smoke on the way to work then douse myself in Coco Mademoiselle before the doorman greets me, eyeing me up and down. I know he has a thing for me. Puts some pep in my step.
10:12 p.m. I met Rebel Wilson tonight. She's pure class and liked my Instagram selfie of us together, which made the night infinitely cooler.
10:46 p.m. Missed my train, time for a(nother) beer. Enter Hector. He leads with, "I never saw a girl prettier than my wife, other than you," then tells me what it's like to grow up where he did. Nope.
DAY THREE
7 a.m. I'm being mopey because I haven't slept and I have too much to do before I leave for Dublin this weekend.
Noon When I first started this job I was worried I'd get bored quickly, but then suddenly I was thrust into managing interns, which I love. I had some bad internships when I was a student so this gives me an opportunity to make sure that doesn't happen to someone else. It's difficult to teach creativity, but I can show people how to brainstorm and collaborate. Generally, when I tell someone what I do for a living they think I'm so cool. I don't think I'm cool, I think I'm a workaholic.
5:40 p.m. Work was so insane today I don't think I ever got a chance to pee. I "wrote" a script while running to Penn Station. Like I screamed at Siri while running through Times Square and spewed out a winning option for a $500,000 account. Thank god for technology and smartphones. I seriously get a rush from the chaos I bring upon myself.
7 p.m. Can I go to bed before the sun sets?
11:54 p.m. Got a third wind and went across town to my married friends' for dinner. They're excellent cooks and cook together, which I admire. Their relationship is odd: They seem to hate each other a little bit but they just work as a married couple. They share everything and have incredible family values. Plus, when she's in basketball shorts, no makeup, and a ratty T-shirt, he crosses the kitchen to tell her how good she looks. I love that, and them.
DAY FOUR
9:40 p.m. Tried a random restaurant with a party of nine to celebrate my college roommate's birthday. We're getting older and closer by the day. Tonight, I lucked out because I wasn't the only single person for once — there were actually four others. No prospects though. Why? Because I'm so hung up on Irish guys and no, it's not just the accent, and no, the "Irish Curse" isn't true (at least in my experience). I automatically find American guys boring.
10:47 p.m. In the Uber back to Penn, kinda wanna die. Dear driver, please don't talk to me but thanks for the water. Five stars for you, Simon.
11:40 p.m. Where is my fucking train?!
I had wine, cider, at least four lethal gin cocktails, and two lemon-drop shots (not my choice but okay). Tomorrow's 8:30 a.m. meeting will feature me with bloodshot eyes.
12:39 a.m. Swiping through Tinder on the train. My first thought, This guy definitely has short Achilles tendons and walks on his tippy toes, better swipe left. I determined this from a headshot. I'm a rough crowd.
DAY FIVE
6:10 a.m. A million snoozes, but soon I'll be waking up in Dublin.
1:30 p.m. It would be nice to take a real lunch break. Instead I run out to grab a garbage sandwich from Pret. Why do I always feel like Pret is the only quick lunch option in midtown? Ugh, I have way too much to do and I am so checked out … just dreaming about my flight.
6:57 p.m. I'm finally on vacation but have so much to do tonight before my flight tomorrow. I'm also extremely sad … I get emotionally affected by the news. There's just always so much going on now, and I can't seem to stop reading Twitter.
DAY SIX
10 a.m. It's Dublin Day! Packing is a nonissue for me because I never put my suitcase away. I'm basically one load of wash from being ready to go.
I wake up thinking about who I'll see when I'm in town and if I want to post that I'll be there on FB or not. I can't wait to smell the air. It's not like it's sugar-scented and laced with rainbows over there … it's just not NYC, so it doesn't smell like human feces and incinerated trash in the summer heat. Sometimes it's difficult to see all the friends I've made over there in one trip and I don't want to hurt anyone's feelings but like, girl's gotta live a little. I wonder if I'll have a new holiday fling? According to the 46 Tinder messages I woke up to, it's looking likely, but I'm not going to make any plans just yet. My thoughts are all over the place — I'm just too excited!
6:15 p.m. Just got through security at JFK. I go to my usual bar for killing time and the bartender instantly remembers me. He's this really high-on-life Latino guy who's very nice. He hooks me up with a massive wine glass filled with Champagne, for free.
8:05 p.m. After a few more drinks, I board the plane, pop a Xanax, and pull on my eye mask. Good-bye, world, I'll be 30,000 miles above your bullshit for the next six or seven hours.
DAY SEVEN
10:12 a.m. Finally arrive in Dublin … very late due to a medical emergency. I'm fairly sure I watched a man die while we were preparing for takeoff. It was very sad; I think the whole flight felt shaken up.
1:30 p.m. Some of the girls from the Dublin office picked me up and took me to brunch, and then we walked around Malahide Castle, stopping to pet strangers' bougie puppers. Then we headed to the Dingle Whiskey Bar and had the best gin cocktails I've ever had (I always say this when I have a good gin drink). It was a perfect day.
3:24 p.m. I saw three uni-aged lads asking women to sign a petition against abortion. I asked them if any girls were in their organization, and they said no. I said, "Hmm … I wonder why." No man should ever be able to tell a woman what to do with her vagina. Come on, boys — feminism and equality is sexy AF.
6:30 p.m. There's a guy I used to see over here, but haven't spoken to in about two months … It started as a whirlwind, ultraromantic holiday fling and turned into us talking all day, every day, across the ocean, for over a year. I flew to visit him three times, but he never returned the gesture. Either way, there was a point in time where I was close to admitting I was in love with him and I'm glad I didn't. He's been quiet lately, which is out of character for him and I know from Facebook that he's dating someone new. Courtesy my social-media investigative skills, I'm pretty sure she's living in Dublin now but is originally from Southeast Asia. He hasn't told me about her … but he did ask me for a drink tonight after finding out I'm in town. I'm going to go because I want to see him, and I want to tell him he's a wanker.
11 p.m. I forced my ex-fling to come clean about his new girlfriend and asked if she knew we were out together. She didn't, and I said I wasn't comfortable continuing the night. We're remaining friendly for now, but I'm not into dishonesty. I said farewell, walked down Dame Street, and popped into a pub and made a new friend. He's not boring, and he's not spending time with me behind anyone's back. It's nice to sip an honest pint!
Get Sex Diaries delivered every week.
Want to submit a sex diary? Email sexdiaries@nymag.com and tell us a little about yourself.