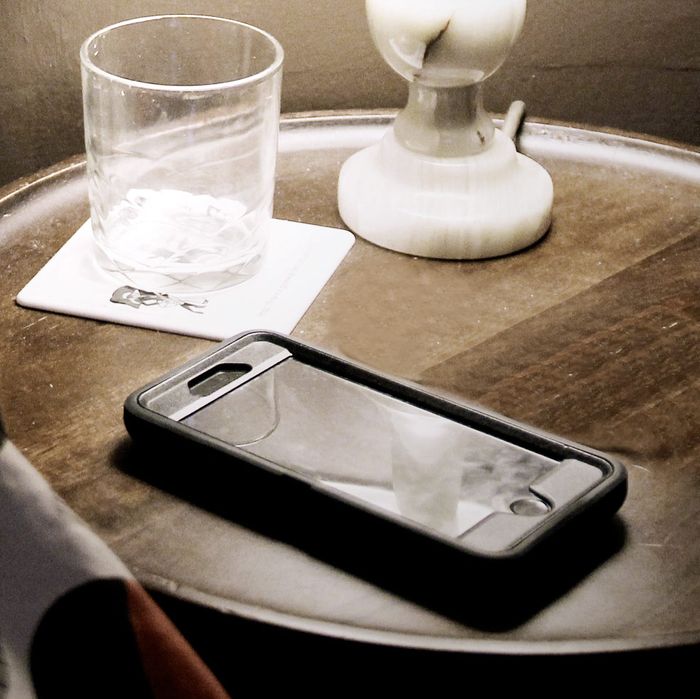 Photo: Emma Gibbs/Getty Images
Get Sex Diaries delivered every week.
New York's Sex Diaries series asks anonymous city dwellers to record a week in their sex lives — with comic, tragic, often sexy, and always revealing results. This week, an editor at a trade magazine who identifies as queer and says straight women are weirded out by him: 24, queer, Harlem.
DAY ONE
8:14 a.m. I trudge down Broadway from Fulton Center in pursuit of coffee on the way to work. My phone buzzes and I see it's a text from Harvey, a school principal in the Bronx I used to hook up with. He's just checking in. We catch up on our summers before we transition to getting our next fuck session on the calendar.
2:24 p.m. A 20-minute stroll during lunch curbs my arousal. It's been some time since Harvey and I spoke, and I haven't seen him since one day last year, when he picked me up from my old job and brought me to his place. We spent the afternoon rolling around naked atop his bed and living-room floor.
6:13 p.m. My neighbor Gabe texts me while I'm in line for the Fleet Foxes show in Prospect Park about our weekend plans — I agreed to go as his date to a green-card wedding this Saturday in Central Park. He says he doesn't have details yet, and also that he misses me. I miss him too, but not like that.
Despite meeting via Scruff, Gabe and I have remained exclusively friends, save for an hour of disappointing oral sex while drunk late one night. It felt inevitable we would have zero sexual chemistry; neither of us displayed much effort to get the other naked. I think we both knew the value of finding a buddy in the neighborhood separate from our respective groups.
10:38 p.m. A friend-of-a-friend drives us to Ample Hills for ice cream after the concert. I happen to join the line behind Mike, with whom I spent the fall of 2015 drinking wine and getting naked. He is sure to keep his back to me until his swift exit 15 minutes later.
11:31 p.m. I sprint into the Grand Army Plaza station as an uptown 2 train takes off, leaving me in the humidity to spiral after the run-in with Mike. Overheated and far from home, I ponder whether it was serendipity that put us both in line together, or whether I'm such a slut that an old flame could cross my path in any neighborhood in any borough at any time.
DAY TWO
12:47 a.m. I make it to Harlem, hustle through my shower, and pull myself into bed.
7:46 a.m. I catch the downtown A train as it pulls into the station. Travel karma is real.
8:33 a.m. I roll into the office and catch up with Eli, my 40-something creative director and work spouse. We chat about Desus & Mero, what he's getting his wife for her birthday, and his son's college road trip. Working for a trade publication that covers the design industry can get really monotonous; my chats with Eli are what I look forward to most about going into the office. If I ever become a father or a husband, I'd look to him as an example. He's the dad I always wanted but never had.
7:30 p.m. Harvey texts to cancel. He has a meeting downtown tomorrow. I see the holes riddling his excuse. Despondent, I text a guy I met at Panorama last weekend — Jan — who lives in my neighborhood. He promptly responds that he's working tonight. His courtesy is so refreshing I can't even be mad.
10:02 p.m. I get off the bus in Washington Heights to see an old pal, Amelia. She called last-minute, also jaded and stood up by a date. She looks hot, dressed in black leather like a dominatrix on an off-night. We order a bunch of wine at a tiny dive on 177th Street, and get tipsy as we discuss trying to fuck in Manhattan.
11:47 p.m. At home, I open my MacBook to see my browser open to porn I watched a few nights ago. I come indifferently to a video of jock-type dudes in an over-the-top threesome, and fall asleep.
DAY THREE
8:10 a.m. I'm on the train reading fiction for the first time in a year. It's aggravating how much fiction is focused on straight white guys and their dicks. I'm tempted to shelve it, but I prefer to finish what I start.
11:17 a.m. I follow up with Harvey and Jan. The latter confirms he's working again tonight. More silence from Harvey, whose fever for me appears to have cooled.
12:48 p.m. Jan will be off work Sunday, but has plans. I ask if I can catch a break — he offers no reply. I finish a draft on a development planned for Sydney's waterfront, and depart for garlic chicken and shrimp dumplings to soak up my self-pity and last night's wine. I sit by the river and burn my ass on a metal bench broiling in the sun.
6:18 p.m. I come home to a flooded bathroom — the fifth time in the three years we've lived here. The walls and ceilings are dripping, and the super is on vacation this week.
11:35 p.m. After we tackle the leak and cook a handsome dinner of salmon and veggies, my roommates and I reward ourselves with beers down the block.
11:53 p.m. I jerk off in bed to photos on my phone. It takes longer than I want to come, but once I do I'm lulled to sleep.
DAY FOUR
7:40 a.m. As I walk downstairs to the A, I spy Alej, who must be back from visiting Florida. Alej found me on Grindr last summer, pursuing me and my time with a fervor I'd never experienced before. I learned after a few weeks of fooling around in our respective bedrooms that his interest was spurred by a newfound sexual freedom. Distanced from his Fox News–watching family in Florida, he saw New York as a meat market, and entered with such eagerness that he soon vanished into a sea of prospects across the city.
Lately, he's been ignoring my texts. I want to run back and confront him, but the train arrives.
9:12 a.m. My work crush, Ana, says good morning as I walk by. It's been a while since my last serious pursuit of a woman, and I'm feeling a bit rusty. My sexual preferences remain open to interpretation, which is why I'm so fond of the "queer" label. Though my mother and brother continue, almost deliberately, to misunderstand its meaning, I love the word for its simplicity.
10:07 a.m. Gabe gets me some info on the wedding. In my mission to provide transparency, I can't shake the feeling that going as his date is unfair. But he wants me there, so I agree.
4:15 p.m. Praise be unto you, Summer Fridays. I sip gin at a sunny bar on Chambers Street waiting for Dave to join me and play cards. Dave and I were roommates in college; he's my go-to for happy hour, concerts, and movies. He's also navigating the single life, and it's nice to have a comrade.
5:55 p.m. Two gins and a beer later, my frustration with Alej erupts. I message him via Instagram since my texts go unanswered. "Don't ignore me," I say. "I've been texting you. You owe me an explanation." He responds, "Nerves got to me."
DAY FIVE
10:12 a.m. I wake up to prep for the wedding.
12:08 p.m. It takes over an hour to go two stops, and I'm behind schedule. I run from the train at 59th Street and text Gabe. He assures me I'm right on time.
1:52 p.m. After beer and hors d'oeuvres, the couple says "I do" before a few dozen friends and me. Refreshments and smiles abound. I'm surprised by how moved I feel.
2:50 p.m. Gabe and I find a corner of the reception to catch up. He explains he's had a tough month, but he's glad I showed up. He adds that he wants us to keep hanging out, but as friends — he reads me loud and clear. He's one of the most welcome surprises I've had in the last year. I give him a hug and we take a selfie with genuine grins.
11:41 p.m. Dehydrated from a day of heat and alcohol, I shower and get in bed by midnight.
DAY SIX
9:33 a.m. I feel rested for the first time in weeks. I open Scruff and continue my chat with a dude I've been messaging named Jay. He's out of town for a few weeks, but will be back in September and wants to connect. He's making me laugh as we exchange Instagrams and more revealing pics. Our conversation grows vivid and filthy.
12 p.m. I join two friends for Mexican breakfast in Soho. I've known them both since elementary school, and when we see each other it feels like home. Suffering through the hell that was Catholic school, it's hard to believe the network of guys we carved out still remain so tight. We simply love one another and that's enough.
1:40 p.m. We stroll to the East Village where I buy a copy of Claudia Rankine's Citizen and some pins. Then we walk all the way to Hudson Yards before calling it a day.
5:42 p.m. I return home to a vacant apartment. Determined to maximize this opportunity beyond watching Netflix on my couch in my underwear, I dive back into the apps.
6:12 p.m. The apps are fruitless as always. I decide to catch up on the new season of Insecure and I'm embarrassed by how much I empathize with Issa and Molly. My dick meter also feels like it's on empty. Dating is the only activity less rewarding than fucking these days, but I can't even do that. Boys disappear. Hetero girls are weird about the queer thing (they act like it's chill, but it never is). Leveled by the tidal wave of shit that is 2017, it's hard to differentiate general unhappiness from my own unhappiness.
11:28 p.m. I peruse the apps once more with no luck. I eat cookies, brush my teeth, and hop in bed.
DAY SEVEN
7:05 a.m. My body rejects the sound of the alarm. I'm so tired I feel hung-over.
3:52 p.m. I'm assigned a fourth newsletter to produce tomorrow while the rest of the office is off on a retreat. This summer is the first time since taking this job that I feel disengaged. I'm anxious about whether or not that feeling will pass.
7:09 p.m. Trekking home in a downpour, I accept I will not hit the gym tonight.
7:37 p.m. Headstrong or just stupid, I text Alej again and tell him we need to meet because I am still owed an explanation. He dodges at every turn.
8:30 p.m. I roast chicken and Brussels sprouts and make some risotto. I eat half and pack the rest for lunch. I text Jan again. Silence.
10:11 p.m. Alej relents, and agrees to meet me. "It's happened to me a million times. Thought it was normal," he says of his disappearance. "And no one's ever cared as much as you to approach me about it." Maybe it is normal, and maybe I need to move forward. But I've shouted tirelessly into the void, and I want to be heard.
Get Sex Diaries delivered every week.
Want to submit a sex diary? Email sexdiaries@nymag.com and tell us a little about yourself.