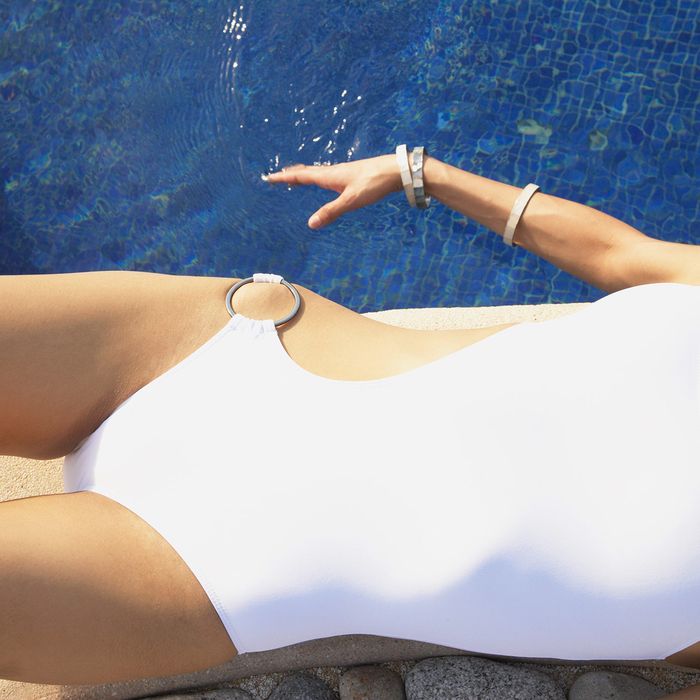 Some clothing is so wrong that it has to be right. In Why Do I Like This? we work through all the feelings that come with finding love in the least likely of places.
I've been avoiding one-piece swimsuits for the past decade, ever since the summer I was a camp counselor and had to wear one during swim lessons. It's not that I dislike the aesthetic, but in a fit of rebellion against the mandatory uniform, I chose an unlined, unpadded, not-very-functional suit from American Apparel. It looked retro, but was no help when I was getting punched in the chest by 4-year-olds in floaties. For the next ten years, I favored more conservative bikinis.
This summer, though, my swimwear priorities changed. I wanted to surf, which meant I needed something that could keep my bust in place while being knocked around by waves. I also wanted the most butt stretch-mark coverage coupled with the least boob sag. Inevitably, that led me to the one-piece market.
The problem is the bulk of popular one-pieces right now don't take tan lines into account. (Belly cutouts seem especially popular.) If they didn't reveal my waist in the least practical way, they required that I pay more attention to my bikini line than there's time for. I wanted a stylish, playful swimsuit that didn't seem too thirsty. Lucky for me, the swimwear gods didn't care what I wanted. I accidentally got a thirsty suit in the mail, and I'm so glad I did.
What I wanted was a timeless, ruffled, off-the-shoulder one-piece in black. Maybe it'd make Rockaway feel like Saint-Tropez? Except that's not what came — I received the brand's Black Cruise Control suit instead. The style felt trendy, with a high-cut bottom, open back, and a lace-up front that from the right angle showed everything between my navel and bra line. "Oh, it is sexy," my colleague said on Slack when I showed her what arrived. (Oddly enough, my boyfriend didn't think there was anything overly revealing about it at all.)
If there's one beach for test-driving a more revealing swimsuit than you're used to, it's Brighton in Brooklyn. It's full of of women (and men) of all ages and body types making the case for thong bottoms — there's no room for shame. What better place to take a bag of cherries and my semi-exposed butt?
Getting ready for the beach, I realized under cutoffs, the suit could pass as the kind of lace-up going-out top everyone wore last year. I took the padding out, though I can see how it might come in handy on a chillier day, or for the extra support. My rack did stay in place — though, full disclosure, there were hardly any waves. Another perk: You can be as modest about your cleavage you want, thanks to the option to tighten or loosen the front.
The silhouette's open back managed to make me feel pretty sexy even after a meal of Nathan's cheese fries and funnel cake. I did have to walk around with my hands down my shorts to keep the high cut from riding up, but that was a small price to pay (in addition to $109) for the suit's food-baby coverage, made possible by its adjustable string.
Most importantly, the suit seems durable, so if I'm lucky it'll be a very long time before I shop for one again. Bless shipping errors, for making me realize a starter thirsty suit was exactly what I needed.
The Suit I Wore to Brighton Beach
Other Affordable Ones I Love
This Baywatch-on-a-budget suit makes the cost of regular bikini waxes seem less daunting.
Mesh is the perfect material for teasing a little bit of skin, if that's all you're comfortable with.
Accidentally flashing everyone on the beach doesn't seem likely with this suit. While it doesn't show a ton of cleavage, don't let that stop you from making your own Survivor video in it.
If you want the look of a lace-up suit, but are too lazy to deal with retying it all day this style is the perfect solution.
If you buy something through our links, New York may earn an affiliate commission.