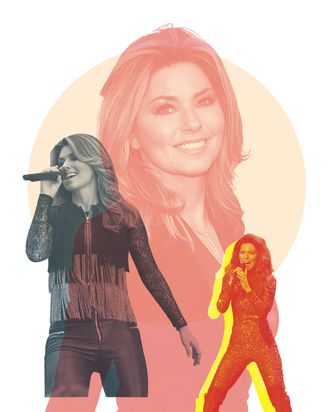 Shania Twain.
Photo-Illustration: Stevie Remsberg
While she may be one of the top-selling recording artists in history, Shania Twain hadn't released a new album in 15 years — until now. The country music queen is back and better than ever, with NOW set to drop on September 29 and an upcoming headlining gig at the Opening Night Ceremony for the 2017 U.S. Open, on August 28. The Canadian diva recently chatted with the Cut about her love of tennis, why making a video is like getting married, and why olive oil is her "everything."
How I start my mornings: My son has school in the morning, so I'm up usually around 6:30 or 7 a.m. But a normal morning for me varies because I travel a lot. If I can get raw coconut water, my morning drink is coconut water, avocado, and apple in a blender. It's a smoothie. If I don't have access to coconut water, it's blueberries and almonds — that's one of my favorite things to eat. I try to eat first thing in the morning when I get up, before I shower or do anything like that.
How I sweat: I always say the tennis court is my gym — I love tennis. I started playing it with my son when he was about 7 (he's 15 now). I was already older, in my early 40s. With tennis, I forget that I'm working out because it's a game. I love the fact that I'm concentrating more on the points and having fun than I am worried about the time or pushing through repetitions. I love the fact that I'm running around outside, enjoying myself. When I'm able to play tennis regularly — which is, again, depending on where I am — it's nothing for me to play three to five times a week.
My best wellness hack: If I'm going to do shortcuts because I'm traveling and I can't manage the environment around me or my schedule is too much, walking is my key thing. If I've got to go to an appointment, I'll try to walk there, or walk back because going off to play tennis isn't always easy when I've got a busy work schedule. I'll wear my running shoes for the walk and pack my dress shoes in my backpack, and build in my exercise that way. Also, for on-the-go eating, I stay away from junk food. I make that avocado smoothie — I have a blender in my hotel room everywhere I go — as a filler between meals so that I'm not starving all day. To avoid the bag of potato chips, I'll have one of my smoothies.
My skin-care routine: I exfoliate every day, I wear sunscreen every day, and I use a C complex as well. That's made a huge difference with my skin. This is going to sound weird, but because I'm traveling so much, I take sugar and a bit of olive oil or any face cream that I've got handy, and mix it with a little bit of warm water, and I gently scrub my face. I came up with it myself. It's very hard to find an exfoliator that I really like. I tried so many. I have tried very fine sand before as well, but it's a little bit too abrasive. Sugar works well because it softens with a little bit of warm water and it's not sharp on the skin.
Wellness, to me, is: happiness. I'm so grateful to have a real sense of well-being.
On pulling herself through the hard times: I'm very lucky that I have a need to be creative. It's this built-in venting zone where I can take all of my angst and tears and sadness. I filter everything through my songwriting. It saves me every time.
On her iconic leopard-print "That Don't Impress Me Much" outfit: There's so much that goes into putting the clothing together for a video like that. If you think of it like a wedding day — every video is such a production. Like your wedding dress — you've tried it on sooo many times already to try to get it right. The novelty wears off by the big day.
What makes it all come to life is the music and performing: You are the bride in that moment. You are that person. When it all comes together, you feel the empowerment of it all. Actually, when I look back at it, I feel the empowerment more than I did in the moment, because videos are a lot of hard work. The wedding day is usually the most exhausting day of your life and it's when you're looking back at the photos that you're like, "Oh, that was so great," and you forget all about the stress of the day.
How wellness has changed for me: Wellness has become more of a focus in my life with age. You just see yourself differently in the mirror every day, and you feel different when you push your body, and you take wellness less for granted.
The song that most accurately describes my state of mind: It's called "More Fun" [off of my new album]. It's a mantra I tell myself: I didn't have enough fun today, I've got to have more fun.
My biggest wellness struggle: Getting enough sleep. I go in and out of different time zones, and I've got to turn my body clock around often. Sometimes that means I lose sleep, and boy, when you don't get your beauty sleep, then your wellness definitely gets affected!
On recording a duet with Céline Dion: Oh, I'd love to do that. I actually use her as my warm-up music a lot of the time. She's got such a high range — "I Drove All Night" is my favorite one to do my vocal warm-ups to, because it has the higher harmony, which is really hard.
Olive oil is everything. I'll mix olive oil with any lotion for my body. I use olive oil on my face when I'm using sugar to exfoliate. I use olive oil on the ends of my hair when it's dry. It is the star product in my life.
I fly a lot, and it keeps my eyes from getting irritated. I also believe it flushes the bacteria out. It's not because I have particularly dry eyes; I mostly use it to flush them out, because I'm always wearing different makeup and being exposed to camera lights and wind machines and all of that stuff.
Even when I don't wear makeup, a skin primer is the best. It controls shine and it gives skin a smooth texture.
This interview has been edited and condensed. If you buy something through our links, New York may earn an affiliate commission.