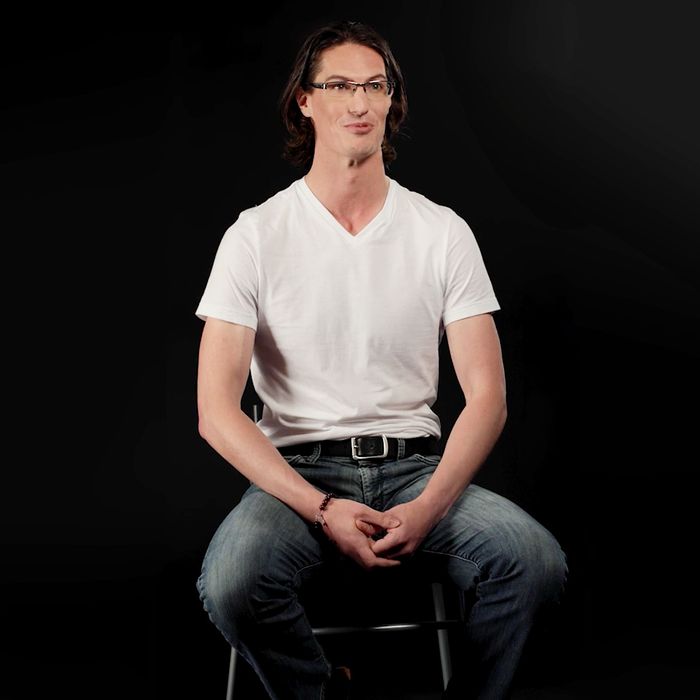 You shan't date Nate.
Photo: Courtesy of shouldyoudatenate.com
Love is part of the human condition, and so is the search for it. We look for it at parties, on the subway, on dating apps, and — if you are a "6' 4" passionate businessman" named Nate — on a site you created for yourself called ShouldYouDateNate.com. Unfortunately, the latter is less of an advertisement for dating Nate, and more of an argument for celibacy and dying alone.
So who is Nate, né Nathaniel Rifkin? He will tell you himself in 3,000 words and one video, but to sum it up: He's a businessman based in Colorado who's looking to find a partner and take her on a free vacation. He's into meditation. He is very busy launching a nutritional supplement business, which sounds like a scammy scam scam. But most importantly, Nate is not like other guys.
I …




Don't much care about sports, music, or TV (although I'm amassing a list of shows to devour marathon-style like Breaking Bad, Game of Thrones, etc.)




Have nary a presence on Facebook and hardly ever visit YouTube or Twitter or Instagram or whatever the latest popular social networking site is




And … basically … I abhor the stuff 95% of the population obsesses over!
Oh, and he's a Libertarian, which really explains it all.
So what does Nate want in a woman? Let's start with what he doesn't want. No women who drink and smoke too much, women who don't exercise, women who watch too much TV, women who party too much, women who dislike rampant free-market capitalism, and, finally, women who "sneer at spirituality." Now that we've gotten all those super chill requirements out of the way, here's what does fit the bill:
My idea of a perfect woman is someone who is intelligent, healthy, happy, ambitious, spiritual, and has a good sense of humor. As far as age is concerned, if you are somewhere between 22 and 35 that's just fine. If you have a slender, healthy body, a reasonably slim waist, and a very pretty face then, quite frankly, you sound like heaven to me!
So, any skinny Libertarian supermodels out there who believe in New Age culture and non-FDA-approved supplements — Nate's your man. M'lady.