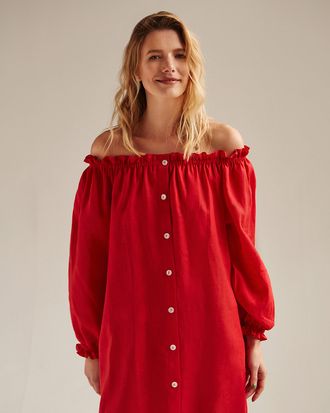 I'm getting married next week and I've been in full planning mode for months. One of the things on my to-do list was finding pretty pajamas — I wanted a simple but stylish white pair to wear while taking getting-ready photos. In my hunt I came across Sleeper, a brand devoted to stylish, cozy clothes you don't necessarily have to wear in the bedroom. All of the fabrics are natural — they only use 100 percent cotton, wool, or silk. I did find the perfect pair of white silk pajamas, but there was something else that caught my eye — I couldn't leave the site without buying their Ottoman Loungewear dress.
You can buy an off-the-shoulder dress at plenty of places, but I've found none to be as chic, comfortable (even in the worst heat!), or versatile than this one. The linen is lightweight and breathes well but it's not so thin that it's see-through — I even wore it to work the other day. As soft as the fabric felt, it still had enough heft that when I fell asleep wearing it, I woke up to no wrinkling. A common problem with these types of tops and dresses is their inability to stay put, but Sleeper really put thought into their design. The dress includes a soft inner band that doesn't dig into my skin but still manages to remain in place without any fidgeting. What I love most, though, is the oversize fit, which creates a perfect billowy shape that happens to complement Birkenstocks. So, yes, a dress that you can literally wake up and run out the door in does exist.
If you buy something through our links, New York may earn an affiliate commission.