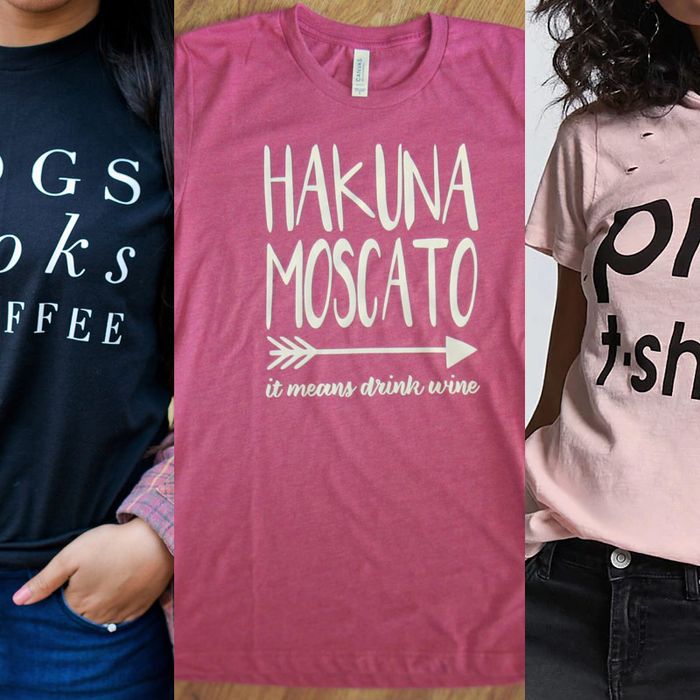 Words. What do they mean? And why do we put them on T-shirts? We don't know, and it seems as if brands like Forever 21, Old Navy, and Reese Witherspoon don't really know either. Recently, it's been all the rage to throw a few random, tenuously connected proper nouns onto a T-shirt that one might wear to, say, brunch or the gym or brunch at the gym. Haven't gotten around to buying one yet? Let us help you come up with a few of your own.
Your ideal murder weapon + a character from your favorite children's book growing up + any World Series winner from between 1988 and 1995
Example:
POISON
HAROLD
THE LOS ANGELES DODGERS
Your mother-in-law's name + something you say during sex
Example:
CHERYL
IT'S SANDY IN HERE
Your favorite brunch cocktail + the color underwear you're wearing + a birth control you tried but didn't end up liking very much
Example:
MIMOSA
PUCE
TRANSDERMAL PATCH
The first line of Moby Dick + the first line of The Stranger + your Starbucks coffee order (pluralized with exclamation point)
Example:
CALL ME ISHMAEL
MOTHER DIED TODAY
VANILLA LATTES!
The thing your teachers commented most frequently on your report cards in high school
Example:
DOESN'T LIVE UP TO POTENTIAL
Your shoe size + your bedtime + the number of contacts in your phone + how you fear you will die (with smiley face)
Example:
8.5 +
11 +
547 =
DROWNING :)
The actor whose name you had to look up on IMDb the other night + the tagline from a Netflix show being advertised in the subway
Example:
JAMES REBHORN
EVERYONE KNOWS SHE DID IT. NO ONE KNOWS WHY.
A French expression that is part of the English lexicon that you never say out loud because you are still not sure you really know how to pronounce it + a body part
Example:
TROMPE-L'OEIL
BOOTY