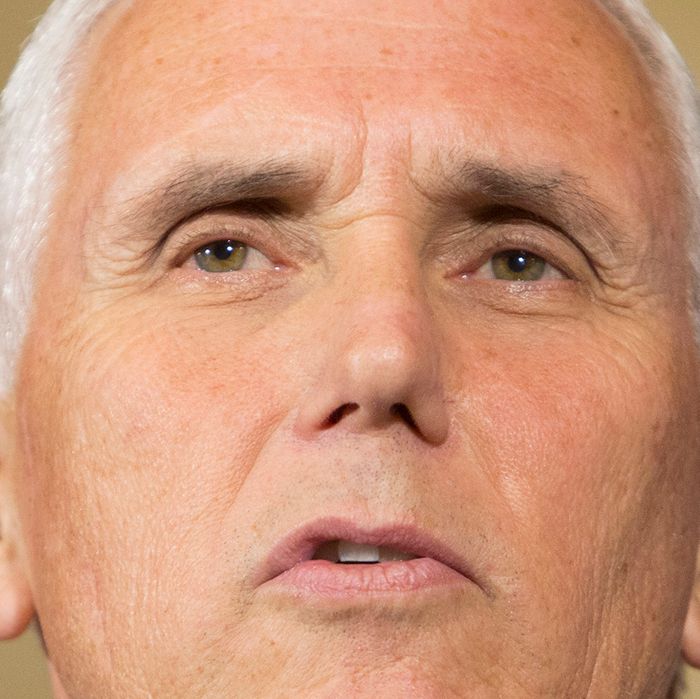 Vice-President Pence.
Photo: Pool/Getty Images
Four U.S. Army soldiers assigned to Vice-President Mike Pence's communication team have been reassigned after they violated curfew and allegedly brought women back to their hotel rooms in Panama last week, NBC reports.
Security camera footage reportedly caught the service members bringing the women into secured and restricted areas of the hotel without having registered them as visitors beforehand.
Military officials say there is no evidence the women were sex workers, and that the service members in question were reassigned for having violated curfew. In an email to the Washington Free Beacon earlier this week, chief of staff to White House Military Office Karen Brazell wrote:
Four active-duty military members assigned to the White House Communications Agency, from the Department of Defense, are under investigation for confirmed violations of curfew requirements while deployed to Panama in advance of the Vice President's visit August 17th, 2017.




All four members were removed from Panama before the vice president arrived and have subsequently been removed from White House Communications Agency duty.
The soldiers were in Panama to prepare for the vice-president's tour of Latin America, which also included visits to Colombia, Chile, and Argentina.
This is not the first time members of executive-branch security have been disciplined after of inappropriate late-night rendez-vous. In 2012, eight Secret Service agents were fired after allegedly bringing sex workers from a strip club back to their hotel rooms during a trip with President Obama to Colombia.