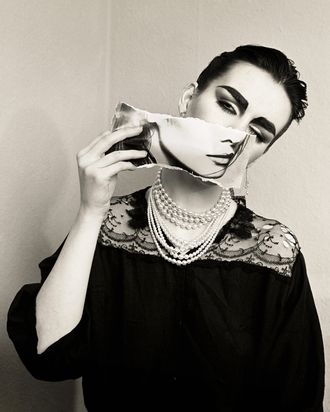 Linder,
What I Do to Please You I Do
, 1981, detail.
Photo: © Linder/Courtesy of the artist and Blum & Poe, LA/NY/Tokyo and Stuart Shave/Modern Art, London
Monday is a big day for the galaxy — a total solar eclipse. Exciting, yes, but I invite you instead to be dazzled by the Cut's new design. The last time the Cut changed its look was back in 2012, around the time Taylor Swift was feeling 22. The sun shone bright. Peaches were still just innocent fruit. It was an era before everybody complained about basic bitches, before Tinder trained a generation to swipe right for love. We felt so smug in our skinny jeans then, as if the sun would never go dark, as if the world would never change.
In December of that year, Chimamanda Ngozi Adichie delivered her "We Should All Be Feminists" TED talk. A year after that, Beyoncé sampled the talk on a surprise album. These days, Dior even sells T-shirts with the now-famous slogan. So … we're all feminists now, right? [Insert grimace emoji.] Clearly not. In fact, it seems things are more complicated than ever.
Given that America almost elected its first woman president in November — and that millions of pussy-hat-wearing ladies led the largest peaceful demonstration and/or march in history to protest that it didn't — we felt it was time for the Cut to reflect on how much we've grown along with all the conversations around us. Our old logo, with a dotted seam, referenced our deep roots within fashion, but the name always left room for interpretation.
Think of cutting remarks, cutting through bullshit, cut abs, cut-ups, cutting to our reaction shot as the world goes nuts around us. Our new logo is set simply, in the same typeface as the rest of the words on the site. We're going for the chiseled permanence of a marble monument, albeit onscreen. Our hope is that we've made something simple and strong enough to outlast the trends like an Hermès bag.
Even with all that's changed here and in the world, style is at the core of who we are — and it goes beyond the fashion industry. As we worked on the redesign, we made a big inspiration board. Linder, the woman in the image above, and also the artist who created it, became a kind of mascot. I love her confrontational stance, how she rips a page from a fashion magazine and uses it to confuse and control how we see her. Her confidence captures how I think about the power of style: It's a reliable tool for understanding culture. It thrives on interesting contrasts. It's democratic, and it starts more conversations than it finishes.
To that end, our stories are now organized around four categories: Style, Self, Culture, and Power — words that give us a framework for what it means to be a woman moving forward in the world today. Each one informs the other. After all, a woman with a stylish mind poses a real threat to every industry she enters.
Go ahead and poke around, but here's a quick rundown:
Style: More than just fashion, Style now encompasses all things related to living an aesthetically pleasing life, including gorgeous photography, street style, red-carpet photos, beauty coverage, weddings, and interior design. You will find reviews by Cathy Horyn, as well as daily takes by Emilia Petrarca. Fashion director Rebecca Ramsey and our market team (Diana Tsui, Lindsay Peoples, and Indya Brown) bring you all the best trends to help you navigate the world with poise and purpose. Beauty director Kathleen Hou covers her beat with a wry flair for the strange (mortician makeup, French laxatives, the debatable existence of "sushi face"), and, if you haven't yet, check out Ashley Weatherford's video series Face Race, which pits makeup artists against each other and teaches you how to get iconic looks. Coming up, we'll have a new series on dressing, called A Perfect Fit, and one on beauty, Starter Kits, with tips for dealing with everything from oily skin to curly hair.
Self: This is our hub for everything that relates to our mental and physical health, feelings, sex, relationships, and parenting. It's a space to be neurotic and ask questions. Here, you can find popular columns like Heather Havrilesky's Ask Polly; Jen Gann's How I Got This Baby; weekly horoscopes by Madame Clairevoyant; What Your Therapist Really Thinks; the Sex Diaries; and work from columnists like Maureen O'Connor and Priscilla Pine. We now have plenty of room to explore our love-hate relationship with the wellness epidemic. And this fall, our sister site Science of Us, helmed by Melissa Dahl, will begin publishing on the Cut. As a preview of that, this week we have an article on the emerging field of psychodermatology — the science of how your feelings affect your face.
Culture: Writers Allison P. Davis, Allie Jones, and Anna Silman interpret "culture" broadly. They dig into the issues portrayed in the films and TV shows that consume us, investigate the growing influence of social-media celebrities, and profile the stars we can't stop watching: Alia Shawkat, Aubrey Plaza, Yvonne Orji, Ali Wong, Nathalie Morales, Laura Harrier, and so many more. The staff of the Cut buys a lot of books, and we know our readers do too. This week, we begin Reading Women, a column that asks writers like Brit Bennett, Ariel Levy, and Angela Flournoy to talk about their favorite books by women authors.
Power: Rebecca Traister, Ann Friedman, Lisa Miller, and others fuel a section that houses our coverage of politics, feminism, work, money, and issues relating to equality. Gabriella Paiella, Dayna Evans, Claire Landsbaum, and Lisa Ryan chronicle daily life in Trump's America — picking apart what power means in this administration and skewering those who wield it. Our regular columns Ask a Boss and Money Mom will also live here, along with our "Niche Drama" recaps of the juiciest feuds and entertaining conflicts of the week. Ann Friedman will host a new series of in-depth conversations with some of the most thoughtful and provocative women in the world, called "Feminisms Now" — an acknowledgment that in today's climate, there are many ideas about what it means to be a feminist. And we'll keep talking to successful, busy women about how they get it all done.
*
It takes a village to produce the Cut, but it would be impossible without the editors Molly Fischer, Ruth Spencer, Izzy Grinspan, Jessica Roy, and Catie L'Heureux. Photo editors Biel Parklee and Raydene Salinas bring in all the visuals. Our producer, Leah Rodriguez, makes sure the posts go up, and Emily Sundberg takes it all over to Instagram. Product manager Jenny Barrett, with designers Ian Adelman, Miranda Dempster, and Marisa Woocher, saw that this redesign went smoothly. And, of course, the Cut exists in the incredible ecosystem of New York Magazine, populated by too many talented people to name — they all contribute to our success in large ways every day. (Special thanks to Jody Quon, Roxanne Behr, Randy Minor, Chris Cristiano, Aaron Garza, Lauren Starke, and Aude White. And of course to our development team: Chris Kirk, Amy Cheng, Zoe Chodosh, Byron Hulcher, Jon Winton and Mediha Aziz.)
In the end, everything we do, we do for you, reader. Amid the absolute mayhem of the past several years, working on the Cut has been a constant reminder that the best coping mechanism is a community of smart women, good clothes, and jokes. There's not enough time to go into every big thing we have planned for the Cut this fall, but I've been thinking of this redesign as a twist on the old adage "Dress for the job you want." In our case, we're now dressing for the job we have: showing the world what women are made of.
Love, Stella