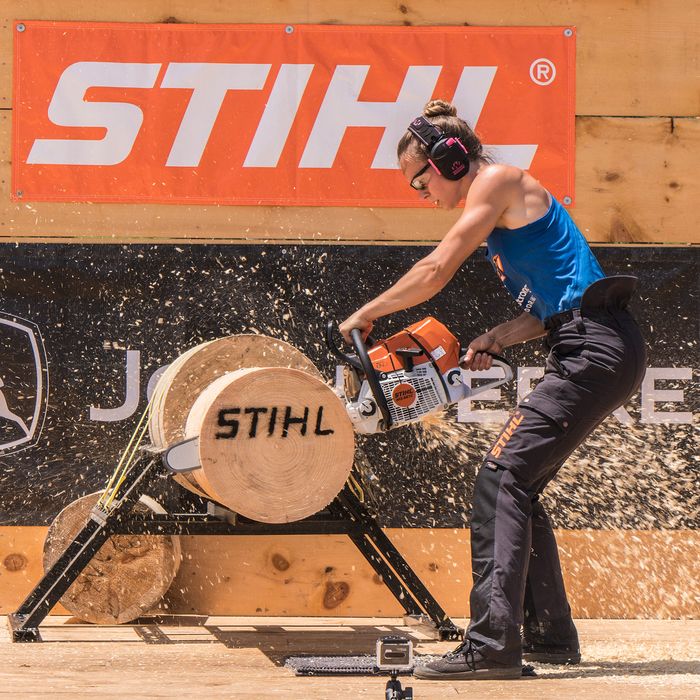 The stock saw.
Photo: Courtesy of STIHL TIMBERSPORTS®
Sitting on a metal set of bleachers in Cherry Valley, New York, under a strong cloud-covered sun, two women in their mid-40s wearing visors reminisce about their axes.
Amy has hers hanging over the mantle in her home upstate. "I take it down and polish it every now and then," she says. Brenda, who met Amy 20 years ago on their school's forestry team at the College of Environmental Science and Forestry in Syracuse, says she's long since misplaced the axe she used all those years ago. But she still thinks about it. And she still loves to watch women chop.
As we talk, a few female competitors and their accompanying male sawing partners (called, satisfyingly, Lumberjack and Lumberjills) rev up chain saws onstage to test them for safety. "This would be the start to a really bad horror flick," Brenda says, eyes glued to the action. "All those chain saws."
Today, Amy and Brenda are in the crowd at the first-ever Stihl Timbersports Series women's division competition in the 32-year history of the sport. It's not quite the same as watching Serena Williams win Wimbledon or the U.S. women's soccer team take home another World Cup trophy — lumberjilling is still a fairly niche sport, after all. But, like a monster-truck rally or the implosion of a structurally unsound building, sometimes there is nothing more gratifying than watching people fuck shit up. We've gathered to watch women wield giant saws, chain saws, and deadly sharp axes. To call this catharsis in 2017 would be an understatement.
While I sit, slumped and puffy and getting more sunburned by the moment (a symptom of my effete constitution), six or so women on the stage in front of me begin to mount hunks of blond-ish pine, carving out two foot-sized platforms in preparation for the first round of competition. This is for the underhand chop — an event where competitors split blocks of wood in half while still standing on them — the first of three women's events taking place on the Saturday in June. The stakes are high: The 16 lumberjills remaining in the competition want to be the first to win the new championship, for the prize money ($2,700) and for the pride (priceless). On the phone earlier this year, Erin LaVoie, one of the best female lumberjacks in the country, was exasperated about the delay in organizing a women's competition like this one. "It's about damn time," she said. "I've been doing this work for 15 years. If the men can compete at this level, why the hell can't I do it?"
Competitive lumberjacking in America got its start in lumber camps, where men working as lumberjacks would compete recreationally with one another in their spare time. Like other extreme sports, it gradually evolved into spectator events that would be aired on ESPN. Adrian Flygt, a male lumberjack who is also a high-school physics teacher in Colorado, explained it to me this way: "People think this is a redneck pasture sport, but they have no idea how much skill it takes." With the not-so-long-ago cultural phenomenon of "the lumbersexual," it would be easy to think anyone with budding pectoral muscles could quickly chop a log.
You could not quickly chop a log.
The women's field has taken longer to grow, but with forestry programs in a number of schools nationwide, there are more women competing than ever. On Saturday, the best lumberjills in America were present, and they came to fuck shit up.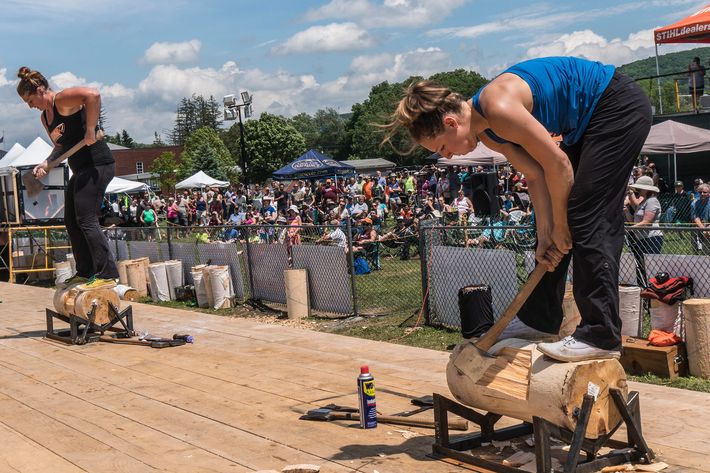 A loud "BLEEP" signals that the women must begin chopping, and they do, with a ferocity and quickness I hadn't prepared for. Dressed in blue Stihl Timbersports tank tops, they stand steadily on their carved logs, which they chop underhand while pivoting front to back until the wood splits in half. The axes in the underhand chop swing dangerously close to the women's legs and feet, and the blades are as sharp as sushi knives. How they don't swing their axes directly into their legs and slice them in half at the shins is beyond me. LaVoie, who's in from Spokane, decimates the first log in 24.51 seconds. Martha King follows shortly, at 27.41 seconds. The women walk off the stage, their biceps pulsing, and smile genially at the crowd and each other.
The sport is small enough that all the women and men know each other well — the competitions are basically family affairs. "I have friends now all over the world because of it," Andrea Card, who moonlights as a winemaker in Sonoma when she's not lumberjilling, tells me. "I only compete in about four competitions a year now, so it's really all about the friends that I've made and getting to see them." Lumberjills do a range of full-time jobs in between competitions: cutting wood for acoustic guitars at lumber mills, teaching yoga, working as vets who handle mountain lions. Like almost all professional women's sports, outside work is necessary to survive. King explained, "At the women's professional level, you might make $50 for a first place, $500 for a first place. Women's money has always been low."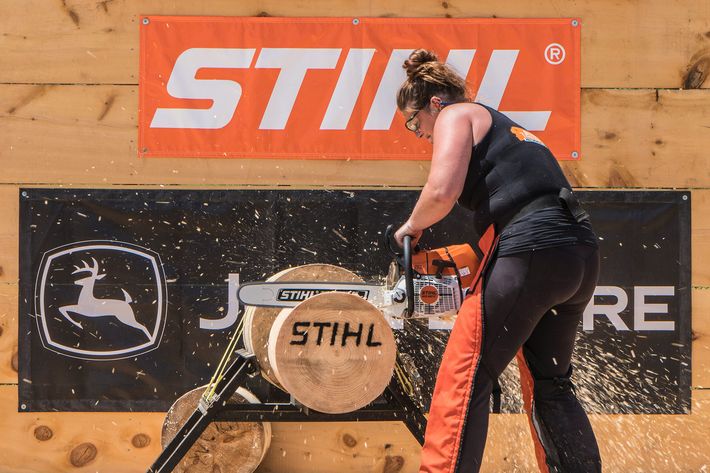 The second and third events are even more mesmerizing to watch than the first: the stock saw and the single buck. In the former, women rev up chain saws next to stationary logs, and in under 20 seconds, they must slice off two symmetrical and perfectly sized wood "cookies." (Later, young spectators carry these cookies around, asking for lumberjills' signatures.) The most nail-biting moment is watching the women right before the "BLEEP" — competitors must warm up their chain saws, place them on the ground next to their feet, and gently lay both of their hands on the log until go time. For several anxious moments, I imagine what a rogue, live chain saw might be capable of. Kendall Kunelius splits off two cookies in 15.05 seconds (she will go on to win the entire competition and that $2,700 prize). The noise of the chain saw drowns out everything around us, leaving a phantom feeling behind like a hangover.
In the single buck, the final event for the women (the men take on a total of six), competitors employ a sawing partner to spot them and stabilize a six-foot, 15-to-18-pound saw as they slice gruesomely through a log. Before the women take off, the male commentator on stage explains that the axes can cost up to $350 per foot of steel. The women handle the saws with utmost care, for fear of losing fingers. King, one of the day's competitors, told me she saw a guy lose his toe once at a competition. "He hobbled to a chair, and sat down. You got to keep the shoe on to keep pressure on everything. Sometimes in some cases, they can reattach toes, but in that case, they couldn't." So casual. "Now he's just one toe less."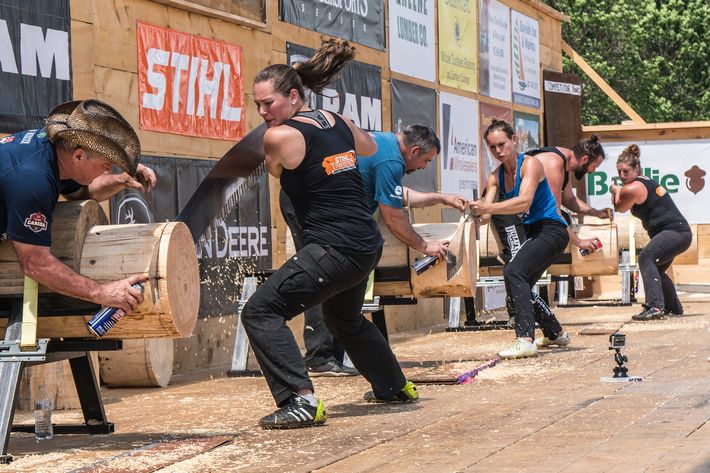 Luckily, I witness no toe removal, no chopped limbs, no spouting blood, no rogue chain saws shaving off skin or through muscle in my five hours in Cherry Valley. I do eat one slab of fried dough topped with a dollop of cherries soaked in corn syrup. In between heats, the crowd wanders the grounds of the Outdoor Games, where tents sell forestry tools, chain saws, and Girl Scout cookies. I catch Peg Engasser, one of the sport's top athletes, to talk about her career, and she begins to cry. "There are times where you think you're done," she says when I ask her about possible retirement. At 47, Engasser is one of the older lumberjills. But as she chokes up, she says it's not over for her yet. "The smell of pine chips, the feel when you get a good stroke. I'm really glad I didn't miss this." She places seventh overall.
On my way out, I spot an enormous man wearing a shirt with cutoff sleeves that says, "ANDREW CUOMO MADE ME A CRIMINAL." It's the first time all day that I think about politics, and it startles me. I think, I would not want to fuck with that guy, and walk a little faster to my car.
But then I remember: at least 16 women wielding six-foot-saws, deadly axes, and chain saws are here, wandering the grounds hopped up on adrenaline. At least for now, everything's gonna be all right.