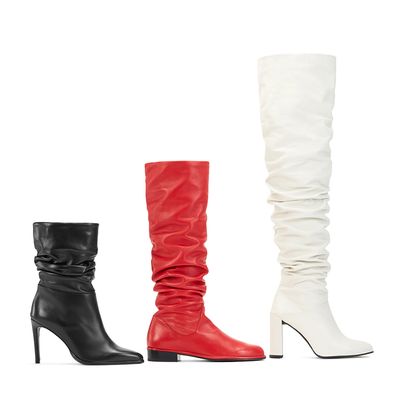 Stuart Weitzman slouch boots.
Boot season officially begins the second the New York air shifts from sauna-esque to crisp and the first hints of yellow pop up on leaves. And then it's officially the best season of the year.
To celebrate, Stuart Weitzman is launching a made-to-order boot program on its website and in a few stores. For somewhere between $535 and $1,098, you too can join the influencer cult of Stuart Weitzman boots.
For two weeks, eight of their most popular boot styles will be available in any of 12 colors and materials. Want the thigh-high "Hiline" in red leather? Sure. "Cling" sock shoes in neutral suede? Yep — they're there. Since they are made-to-order, shipping will take 12 weeks.
If you'll excuse me, I'll be finally quenching my thirst for white leather booties.