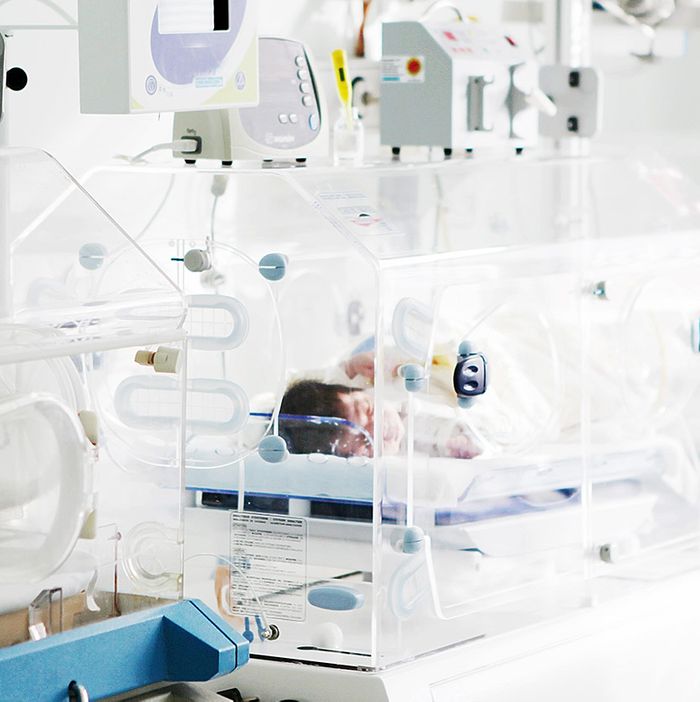 NICU.
Photo: Nenov/Getty Images
A new study released by the Stanford University School of Medicine on Monday found that a baby's race can affect the quality of care he or she receives when in neonatal intensive-care units in California hospitals. The study will be published today in the American Academy of Pediatrics journal.
SFGate reports on the new findings that Asian-American and white babies receive the highest quality of care in California ICUs, while "African American infants had slightly lower scores" and Hispanic babies or babies "classified as 'other'" were treated significantly more poorly than all other infants. Here's how researchers determined this disparity:
Researchers analyzed the quality of care for nearly 19,000 infants in 134 neonatal intensive care units across California — 90 percent of all units in the state — who were born between 2010 and 2014. Previous studies have examined some aspects of care at neonatal intensive care units, or NICUs, but the new Stanford research is the first attempt to look at inequality of care across several dimensions of neonatal intensive care at the same time.




"Significant racial and/or ethnic differences in quality between and within NICUs are a troubling finding," the study says.
One of the study's co-authors, Dr. Jochen Profit, told SFGate, "On a population basis there are general trends — the higher proportion of African American or Hispanic infants in an NICU, the lower the overall quality scores tend to be," but he emphasized that this wasn't necessarily the full picture. "But even there, there's a lot of variation where some hospitals we think of as serving a really vulnerable population actually are among the better performers in the state." In general, though, the study found that the hospitals who provided the highest quality of care gave better care to white infants, above all others.