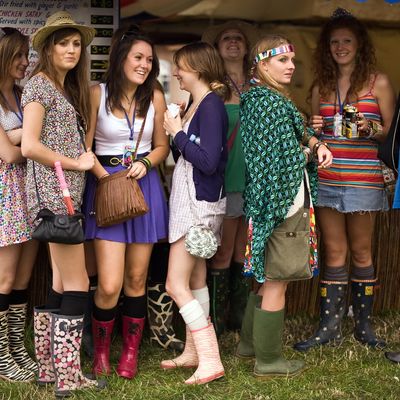 Young women at UK's Glastonbury Festival.
Photo: LEON NEAL/AFP/Getty Images
Teenagers are by and large terrifying pre-adults full of dreams, energy drinks, and sexual frustration. They are also cooler, and apparently smarter than us. According to a new study by the media agency UM London, 69 percent of teen girls in Britain would describe themselves as feminist, as opposed to the only 46 percent of British women overall who identify with the term.
Researchers surveyed 2,000 Brits, aged 13 and over, and found that the percentage of women who answered affirmatively to the question "Would you personally define as a feminist?" declined significantly with age. At 69 percent, girls between the ages of 13 and 18 were the group most likely to self-define as feminist. In older groups, 54 percent of women aged 18 to 24, and 44 percent of women aged 25–34 identified with the term. Only 36 percent of women 55 and above would call themselves feminists.
Sophia Durani, the managing partner of strategy at UM London told Broadly the data indicates a destigmatization of the term "feminist":
It suggests young women are now growing up in a world where they can't see why there should be any questions over equality. Young people are much more egalitarian-minded than ever before and we've moved on from empty 'girl power' talk to equality being a norm. This seismic shift could actually mean that a patriarchy that's been in place for thousands of years could be coming to an end.



While it seems extremely premature to signal the end of the patriarchy, and though it is likely these numbers reflect in part the increased commercialization of feminism (a phenomenon which is problematic in its own right) these findings do indicate that maybe, despite what our governments may suggest, society has taken a small step forward. And at a time when people are watching The Handmaid's Tale and going "Yeah, sounds about right," every step matters.