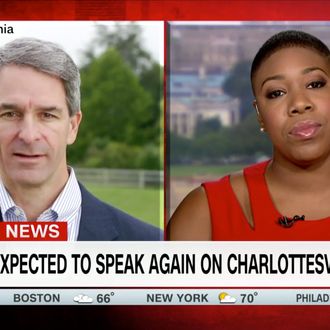 Symone Sanders and Ken Cuccinelli clashed on CNN Monday morning.
Photo: Courtesy of CNN
On Monday morning, after President Trump failed to condemn the white nationalists whose rally led to chaos and tragedy in Charlottesville, Virginia, CNN invited former Bernie Sanders spokesperson Symone Sanders and former Virginia attorney general Ken Cuccinelli to appear on New Day to discuss the matter. It was clear even before they appeared on air that Sanders and Cuccinelli weren't going to agree on much, but things got especially heated when Cuccinelli told Sanders to "shut up" about a minute into the show.
Moments before, Sanders had suggested that Cuccinelli was dismissing the rally in Virginia as an isolated event, when in reality, she argued, it was an "egregious symptom of what is wrong all over America."
She fell silent to let him respond, but when she chimed in while he was speaking, he replied, "Can I finish, Symone? Can you just shut up for a moment?"
Sanders was not about to take that lying down, telling Cuccinelli, "You do not get to tell me to shut up on national television." And host Chris Cuomo intervened, telling Cuccinelli, a 49-year-old man, "You know better." Cuccinelli later apologized for the remark, but in the same breath asked Sanders to apologize "for interrupting me."
"I don't have an apology for you," Sanders said. "You will not get one." She also posted about the incident on her Twitter page.