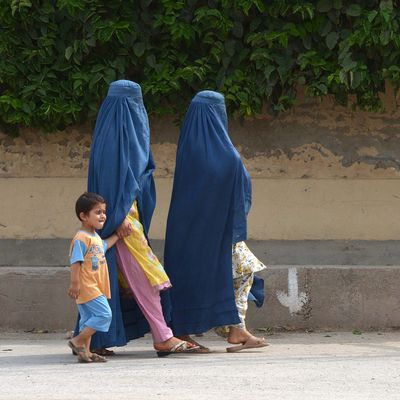 Pakistani women wearing burkas walk along the street in Peshawar.
Photo: A MAJEED/AFP/Getty Images
The Pakistan branch of the Taliban is reportedly focusing its recruiting efforts on a group they've long neglected: women. According to the Guardian, the Tehreek-i-Taliban Pakistan (TTP) have launched a magazine — called Sunnat-i-Khaula, or "The Way of Khaula" (a reference to a seventh-century female Muslim fighter) — that's specifically designed to recruit them to the cause.
Articles in the magazine include a column by the wife of TTP's leader about the benefits of early marriage — "We have to understand that mature boys and girls if left unmarried for too long can become a source of moral destruction of the society," she writes. And an opening editorial encourages women to "come forward and join the ranks of the holy warriors":
"Organize secret gatherings at home and invite like-minded jihadi sisters," the editorial suggests. "Distribute literature reflecting on the obligation of jihad, arrange physical training classes for sisters. Learn how to operate simple weapons. Learn the use of grenades."
As journalist Rafia Zakaria points out in an editorial for Pakistani news site Dawn.com, the magazine represents TTP's attempt to catch up to other extremist groups when it comes to female recruitment. "Long uninterested in resurrecting the legacies of female warriors from early Islamic history, they seem to have suddenly realized the value of even small numbers of women coming into their ranks," she writes.
She adds that, in doing so, TTP is following in the footsteps of Daesh (known in the U.S. as ISIS), which "has made recruiting women a fixture of its efforts" and even has a separate school for female recruits. What's more, she says, their strategy seems to have tapped into some twisted form of feminism: "Research on the Daesh propaganda geared towards women [shows that] the girls and women going into the ranks are lured by promises of a kind of empowerment, freedom from rigid domestic roles, promises of using small weapons and grenades, and most importantly to follow a tradition, that has been distorted, of Muslim female warriors."
The end goal, however, still seems to center around men. As a south Asia specialist told the Guardian, "Women are a strategic demographic because they have the ability to exert influence over their sons."