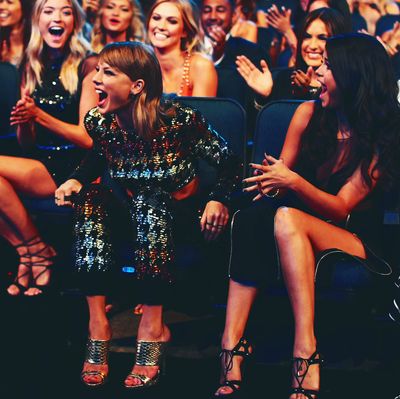 Taylor Swift's squad applauds Taylor Swift at the VMAs in 2015.
Photo: Christopher Polk/MTV1415/Getty Images
At midnight, Taylor Swift released the first single from her forthcoming album reputation, stylized in press materials just like that. The song, "Look What You Made Me Do," is a chilling meditation on the Trump era and the current breakdown of American societ — heh, no, it is Taylor Swift slam poetry about Kanye West being mean to Taylor Swift. With undecorated lyrics like "I don't like you" and "All I think about is karma" and "I've got a list of names and yours is in red underlined / I check it once, then I check it twice," it is both oblivious and bizarre. The chorus sounds like "I'm Too Sexy" by Right Said Fred on purpose. It is, to use a word Taylor Swift might use if she were living in an alternate universe and hearing someone else sing this song for the first time, bad.
There is no going back, however. Swift announced on Instagram this morning that she will debut the music video for "Look What You Made Me Do" at the VMAs on Sunday, setting into motion two months of meticulously planned album promotion and cross-promotion with Target and Ticketmaster. This is the single, baby, whether we like it or not. Which brings us to our question: Does anybody like it?
More specifically: Does anybody in Taylor Swift's squad like it?
In times of trouble, Swift has always been able to depend on the support of her carefully collected best friends forever and ever. Last summer, when Kim Kardashian's Snapchats brought the West–Swift feud to a head, squad members like Selena Gomez and Victoria's Secret model Martha Hunt rushed to Swift's defense. Before that, they all appeared in Swift's music video about hating Katy Perry. In the interim, they politely attended a Fourth of July event during which Tom Hiddleston wore an "I <3 T.S." tank top. This is the kind of undying loyalty that Taylor Swift needs today.
It has been ten hours since "Look What You Made Me Do" debuted. So far, squad member Ruby Rose loves it.
As does the official Twitter account for the sister-band Haim.
But other prominent squad members have remained conspicuously silent: Selena Gomez. Karlie Kloss. Gigi Hadid. Blake Lively. Ryan Reynolds. The Victoria's Secret model Martha Hunt. The Victoria's Secret model Lily Aldridge. Lena Dunham, whose boyfriend Jack Antonoff co-wrote the song. Ellen Pompeo.
It is morning now in L.A., and I can't wait to see the tweets. We will update this post as the support for "Look What You Made Me Do" rolls in.
Updates, 4:30 p.m.: Two more tweets!
The Victoria's Secret model Martha Hunt says she is listening to "Look What You Made Me Do" at the gym.
And Lena Dunham says her dad likes the song.