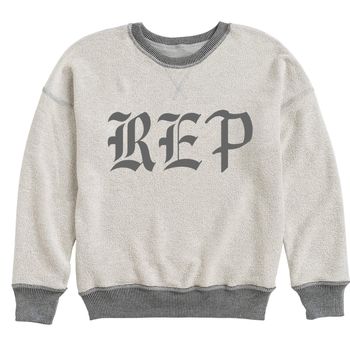 Taylor Swift's reversible "Reputation" terry pullover.
When Beyoncé dropped "Formation" on February 6, 2016, I was online buying merch before the song finished playing. I wanted to wear her fly and her cocky fresh all over my body like a superhero costume; to be a part of her world; to do something, anything, in support of her message.
In that moment, a $35 dollar Joan of Arc "Slay" T-shirt became my merch gateway drug. It was followed soon after by a Rihanna Anti tour baseball cap that read, "Most likely to not give a fuck" (which I was too shy to wear out of the house); a Justin Bieber "Purpose" shirt that I shamefully bought at VFILES without ever even having gone to a concert; and a Lil Yachty "Sailing Team" long-sleeve that I'm still pretty happy about. Throw in a DJ Khaled dad hat, a Morrissey x Supreme shirt, and an indie band Hanes T-shirt, and you've got yourself a full-blown addiction. Or rather, appropriation fueled by an identity crisis. Maybe all of the above. Whatever you want to call it, my subconscious mantra was: Own the merch, or it didn't happen.
When Taylor Swift dropped her Reputation merch for preorder on Thursday night, however, it was the first time in over a year that I didn't immediately want to buy into an experience that the whole world was talking about on Twitter. Like her single "Look What You Made Me Do," Swift's products felt petty, and exposed merch's worst intentions. They are a uniform of war, not fandom.
Swift's merch is a direct punch back at Kanye West — a stance echoed without an iota of subtlety on her accompanying first single, which seems to be a reaction to West's "Famous" and the drama that ensued. A range of Reputation T-shirts, baseball hats, two-sided hoodies (deep), $60 snake rings, and even an iPhone stand feature the same Gothic font that West used in his own wildly popular Life of Pablo merch. (Yeah, I bought that, too, from the bathroom at a party one night.) It's an obvious attempt to fight fire with "fire," but instead reads as an uncreative, impersonal attempt to take ownership of a bad situation by making it look like it was your idea. She went low.
For music obsessives, merch has always been a huge part of fandom, like owning a sports team's jersey. And for musical artists, selling said merch is an important way to make money, which is why it will never truly "die" — especially in an era of streaming. In this sense, Taylor Swift's Reputation merch is no different. In fact, buying it makes you a "Ticketmaster Verified Fan," and boosts your spot in line should you want to also purchase tour tickets.
But Taylor Swift merch feels different because it associates the wearer with a certain side of history — a specific, subjective narrative, to use Swift's word, rather than a vague, collective experience. Unlike the single, symbolic dollar that Swift sued DJ David Mueller for in her triumphant sexual assault case against him, the dollars you put toward her Reputation merch are fueling a dirty feud where no one wins, not even Swift. It is the exact opposite of Rihanna's "most likely to not give a fuck" merch in that it so deeply gives a fuck. It is charged in a way that feels threatening and dark, not fun.
Maybe the merch movement that's recently hit its peak in music and fashion isn't so harmless, after all. And maybe it took someone polarizing like Taylor Swift to point it out. I certainly don't feel good about it, and not just because my pockets are empty and I've got a closet full of clothes I don't identify with anymore. In the end, no matter what team you're on, merch speaks just as much about the buyer as it does the seller. And that Reputation pullover is already sold out.