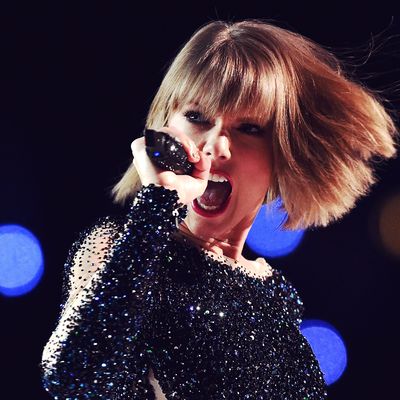 The old Taylor can't come to the phone right now.
Photo: Kevork Djansezian / Stringer/Getty Images
As if three Instagram posts of a snake weren't enough to drive home that Taylor Swift knows what that emoji means, guys, she's since updated her online store to reflect it.
In addition to hats, pullovers, and phone stands, the Reputation album merch haul includes three snake-themed items: one sweatshirt and two rings. The rings are kind of cute, honestly.
In the past, critics of the singer have flooded her social media with snake emojis. It started when it was revealed that Swift co-wrote Calvin Harris' "This is What You Came For," and really took off when Kim Kardashian leaked a recording of Swift agreeing to be mentioned on Kanye's song, "Famous."
Since then, Swifties have reclaimed the emoji, National Snake Day (July 17), and the whole suborder Serpentes. In the past week, Swift has been making it very clear that she is in on it too.
So go ahead, Swifties — proclaim your allegiance with a $60 ring and $75 sweatshirt.