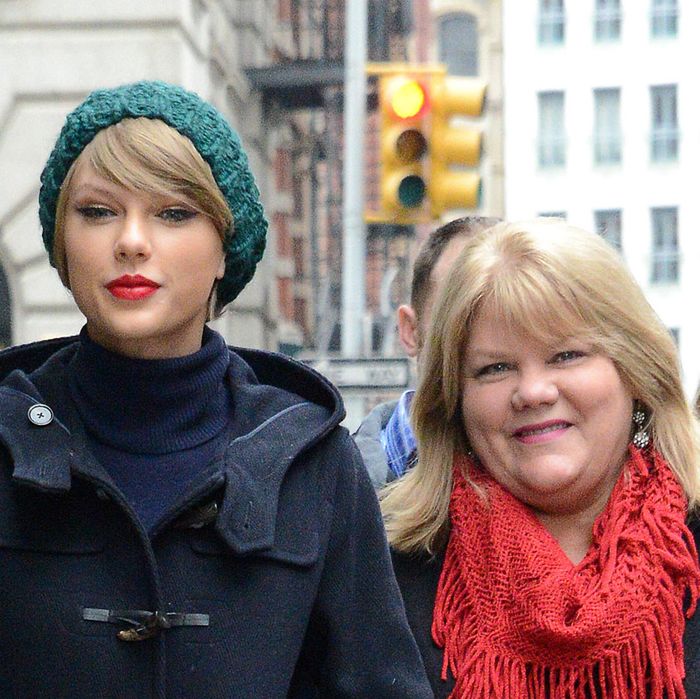 Taylor and Andrea Swift.
Photo: Gardiner Anderson/Bauer-Griffin/GC Images
On the third day of Taylor Swift's sexual-harassment trial in Denver, the singer's mother, Andrea Swift, took the stand to testify against David Mueller, the radio DJ accused of groping her daughter at a meet-and-greet in 2013.
According to Taylor Swift, Mueller put his hand up her skirt and grabbed her butt during a VIP event at Denver's Pepsi Center, where she was performing on her Red tour. Swift told her mother and manager, who informed Mueller's employer, Denver station KYGO. Mueller was fired, and in 2015, he sued Swift for $3 million, claiming lost earnings and damage to his reputation. In response, Swift countersued for assault and battery.
"I knew what happened, I heard it from her, I heard it from my daughter's mouth. He sexually assaulted her, right there, that guy," Andrea Swift said in her testimony, pointing at Mueller.
The elder Swift became emotional as she recalled her daughter's reaction to the assault.
"She couldn't believe that after he grabbed her, that she thanked them for being there. It was just destroying her that she said that … as a parent it made me question why I taught her to be so polite in that moment." 
She also explained that Taylor's team did not immediately report the incident to police, because they didn't want it to "define" her life and force her to "relive this awful moment over and over again."
"I was upset to the extent of feeling like I wanted to vomit and cry at the same time," she told the packed courtroom.
Andrea Swift's testimony follows that of the accused groper, David Mueller, who told jurors yesterday that his hand only touched "what seemed to be a ribcage or ribs."
Swift herself is expected to take the stand at some point, though it is unclear when. Equally unclear is who the courtroom sketch artist will choose to depict in their drawings, because so far it doesn't seem to be Swift.