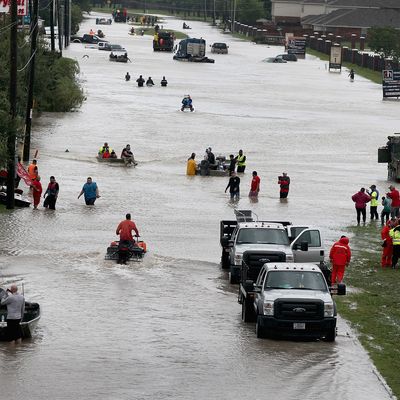 Harvey flooding in Texas.
Photo: Scott Olson/Getty Images
A Texas mother died while saving her 3-year-old daughter on Tuesday from Tropical Storm Harvey flooding in Beaumont, Texas. The pair was swept into a canal after their car got stuck in high water, and the infant girl survived by clinging to her 41-year-old mother's body, People reports.
In a statement on Facebook, the Beaumont Police Department said the mother and her young child found themselves in high water while driving on a service road. The mother pulled the car into a parking lot, at which point the vehicle got stuck. She exited the car with the child, and the pair was swept into a canal and carried half a mile away.
Rescuers in a boat came across the pair after spotting the child holding onto her unresponsive mother's body. "Water was up to the trestle and first responders would not have been able to save the child if they had floated under it," the post reads. The officers were able to pull the mother and child onto the boat, and the young girl was responsive but suffering from hypothermia. The rescuers took turns performing CPR until a bystander helped them get to a waiting ambulance.
Beaumont police spokesperson Carol Riley told People that the mother "absolutely saved the child's life." The officer explained, "They were in the water for quite some time. When the baby was found the baby was clinging to her. The mother did the best she could to keep her child up over the water. The baby also had a backpack that was helping her float on her back and she was holding on to her mom."
Although the mother died, the young girl is in "stable condition," according to the police. The names of the mother and child are being withheld until family and friends are notified.