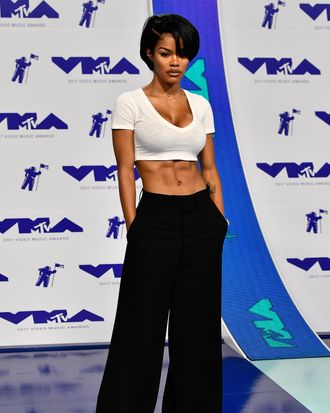 Teyana Taylor.
Photo: Frazer Harrison/Getty Images
Teyana Taylor always has a good reason to wear a crop top. And the 2017 Video Music Awards red carpet was no different, where the singer and dancer was nominated for her choreography in Kanye West's "Fade" music video, which she also stars in. (She won.)
While this may seem like a typical Teyana Taylor outfit, it was actually more than just a ploy to show off her rock-solid abs: Taylor wanted to pay homage to her ultimate idol, Janet Jackson and the outfit she wore to the 1995 MTV Video Music Awards.
Jackson, who also won Best Choreography that year for "Scream", wore a white crop top with "Pervert" and the number two written on the back and wide-leg pants when she attended 22 years ago. The only tweak Taylor made was to write "Underrated" on her shirt. Everything else was spot-on — even the haircut.
Perhaps this outfit choice was a hint at new music. Maybe an album named Underrated. Or, perhaps it was just more evidence that you should show your belly button, always and forever.