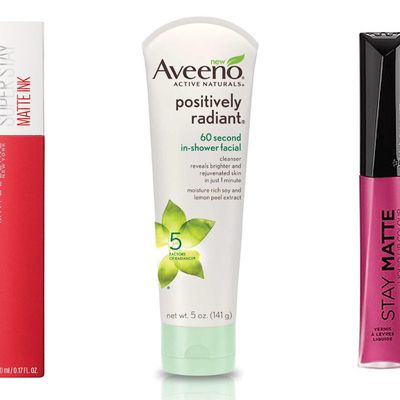 August is the best month. You should be spending your money now on summer adventures, not expensive beauty products (there's plenty of time for that this fall — and plenty of good stuff coming, I promise). In the meantime, if you do need more products in your life, the drugstores are full of great, cheap buys. Read on to find two skin-care cleansers under $10 — an affordable way to experiment with double-cleansing — along with two lip stains that don't behave like summer flings, and a curiously shaped new mascara that really works.
When I wore this lip color to Jin Soon nail salon, Jin Soon Choi herself told me I was glowing. I attribute the compliment to a combination of my new summer highlights and the bright, matte vivid lip stain I was testing out. This drugstore lip stain goes on super-pigmented and has a lasting power that's almost scary. It clung on through multiple cups of Jin Soon's citron tea and, hours later, through predinner snacks. The only issue was that in removing it, I almost took off my own lips. Neither micellar water, Bioderma, nor waterproof makeup remover helped get this stain off. I basically had to exfoliate several layers of skin to remove it, so commit at your own risk.
This is another drugstore lip product that really commits. It's nonsticky and won't make your lips look dry or like "you have a butt hole in your face," as Katy Perry once memorably said. The color goes on nicely without flattening out its contours — you won't feel like you're wearing vibrantly colored sludge. It lasted several hours before and then during an outdoor run. Some people who complimented me on the color even asked if it was a luxury lipstick brand. Best of all, it washed off easily with an oil cleanser.
This is a nice, creamy exfoliator that isn't made with microbeads that will scratch your face or hurt dolphins. Although I'm generally anti–physical scrubs and pro–chemical exfoliators, this is a good drugstore option (and hundreds of online reviewers agree). The formula is a cream laced with tiny, almost imperceptible grains. Still, it's enough to gently lift any dead skin. Technically, after applying, you're supposed to wait 60 seconds before rinsing so it can work with the steam, but I skipped this step and didn't notice much difference. I liked how the cleanser sloughed away dead skin with very little effort. After a day at the beach, it easily took off all seven layers of sunscreen detritus and pilling that I had from constantly reapplying.
Technically, this mascara is meant for your upper lash line, but I love using it on my bottom lashes. The wand is a curiosity — it almost looks like a factory-production flaw. One side of the brush from two-thirds down is completely bristle-less, while the top third of the brush contains several bristly spokes, similar in design to an open Venus flytrap. I like using that part vertically to get into my short bottom lashes so that I don't need lower-lash eyeliner. I suspect that the bristle gap makes the wand nimble enough to hit all those individual lashes. It helps that the formula doesn't clump and didn't bleed into my eyes when I tested it out during a workout.
I believe baking soda is great for toilet stains and stinky feet, but when it comes to my face, I stand with the Reddit Skincare Addiction board. Have you ever tried to put baking soda on your face? It makes it drier than an August sidewalk. Good thing this baking-soda scrub contains very little actual baking soda. It comes in a soft, travel-friendly powder that you mix with water to create a mild, lather-y scrub — consider it a drugstore dupe of Tatcha's much pricier Rice Enzyme Powder. It gently cleans your skin without stripping it or making your pores feel like they're squeaky clean — and that's a good thing.
If you buy something through our links, New York may earn an affiliate commission.