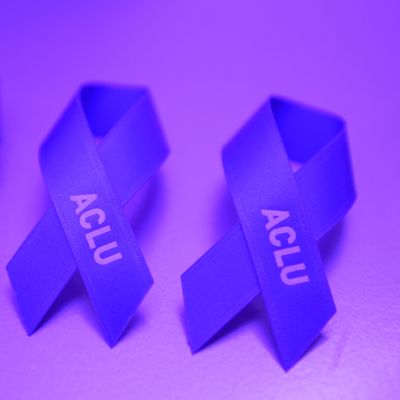 ACLU ribbons.
Photo: Jason Kempin/Getty Images for TBS
As political discourse in the U.S. continues to degenerate, more and more organizations are looking for ways to lend their support to important causes, and the fashion world is no exception. On Tuesday, the CFDA and ACLU announced they are launching "Fashion for ACLU," an initiative aimed at raising awareness and funds for the work the ACLU does in upholding civil liberties, and combating racism and bigotry.
"We want to be on the front line, not the sidelines, to boldly fight to protect our precious rights and freedoms, which has taken on a renewed urgency after the heart-wrenching events of Charlottesville," said Steven Kolb, president and CEO of CFDA. "Our goal is to actively support concrete work that will move our country meaningfully forward. The ACLU is doing that critical work."
As part of the initiative, the two organizations are asking designers to prominently feature the "Fashion for ACLU" tagline at their runway shows and parties during September's New York Fashion Week, and to distribute blue-ribbon lapel pins. This will not be the first time the ACLU ribbons have seen the spotlight — they were a popular accessory at this year's Academy Awards, with celebrities like Lin-Manuel Miranda, Barry Jenkins, Emma Stone, Karlie Kloss, and Ruth Negga all sporting blue ribbons on their clothes.
So far, more than 50 labels plan to participate, including Derek Lam, Diane von Furstenberg, Narciso Rodriguez, Everlane, Prabal Gurung, Public School, and Tracy Reese.
And designers aren't the only ones showing their support. The ride-sharing app Lyft will give the ACLU $5 of every ride to and from Fashion Week events, up to $10,000, when passengers enter the promo code "FASHIONSTANDS" in the Lyft app.
"We are grateful that the CFDA is willing to use its reach and influence to stand up and protect our civil liberties at this unprecedented time in history," said Anthony D. Romero, executive director of the ACLU. "I've no doubt that the individual and collective voices of the fashion industry proclaiming 'We the People' will resonate far beyond the runway this September."