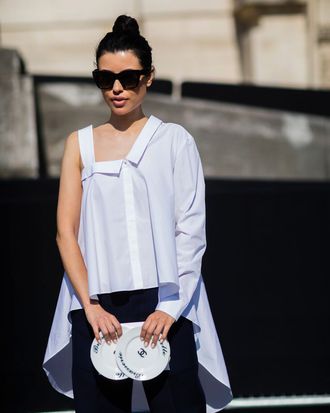 Cheap and Cheerful is a weekly column that highlights the chicest inexpensive finds. Because nothing's more satisfying than looking good while spending less.
Even if you've never heard the term "hero blouse" before, you're probably familiar with the concept. It's a shirt with so much personality that it makes your entire outfit. Think of it as a grown-up, modern take on the going-out top.
Whether it's festooned with bows, slashed with cut-outs, or covered in ruffles, a hero blouse is incredibly easy to style. Just throw on jeans and voilà, you're fashionable. (Though if you want to be street-style bait, feel free to add striking earrings or a colorful block heel.) Scroll down to shop our favorites.
The deep marigold hue is perfect for fall.
Flowy fabric and an exposed back to keep you cool on hot days.
The Pilgrim-Sleeved Blouse
Pilgrim-esque puff sleeves have been making the rounds in collections from Tibi and Creatures of Comfort. Here's a more affordable option.
The Fashion-y Take on Off-the-Shoulder Tops
Red and ruffles: both hot right now.
The little sliver of shoulder and the subtle tie makes this feel fresh.
The Edgy Yet Feminine Blouse
The color is almost too sweet, but it'll make for a cool contrast paired with leather pants or a structured miniskirt.
The Affordable Designer Dupe
For the Woman Who Is Never Cold
It's going to be impossible to get a coat over those four large bows, but if you're warm-blooded, you can buy this and look cool all fall.
Silver satin and ruched sleeves — for when you want to feel fancy.
If the tie is too dramatic for your office, wrap it around twice to shorten it at the waist.
If you buy something through our links, New York may earn an affiliate commission.