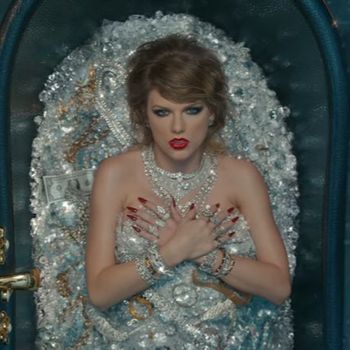 Girl next door. YouTube/TaylorSwiftVEVO
Photo: YouTube/TaylorSwiftVEVO/YouTube/TaylorSwiftVEVO
I don't know if you've heard, but the Old Taylor Swift is dead, and according to her new music video, she was killed in either an extremely glamorous car accident involving a pet leopard, or some sort of poorly executed human pyramid, I can't really tell. In any case, the New Taylor Swift is here, and like most rebellious teens, she's super into snakes, wears black, and reportedly bathes in multi-million-dollar diamond baths.
According to "Page Six," the bathtub full of diamonds in Swift's "Look What You Made Me Do" video was full of authentic Neil Lane jewelry, which was worth "well over $10 million." Many of the pieces appear to be vintage, and the diamond snake ring on Swift's left ring finger (she's into snakes, okay?!) seems to be the same one Zoe Saldana wore to the Oscars in 2013. Lane confirmed the jewelry was his, and said:
I had to go to the vault for this one. They wanted an over-the-top, glamorous look so we gave them unprecedented access to my collection. And wow what an amazing turnout, diamonds have never looked better!
But $10 million of bath diamonds is just the first step. What other wildly expensive and impractical props will New Taylor's videos include? Swan-pool floaties made out of real gold? Katy Perry's head on a spike? We'll just have to wait until her new album comes out in November to find out.