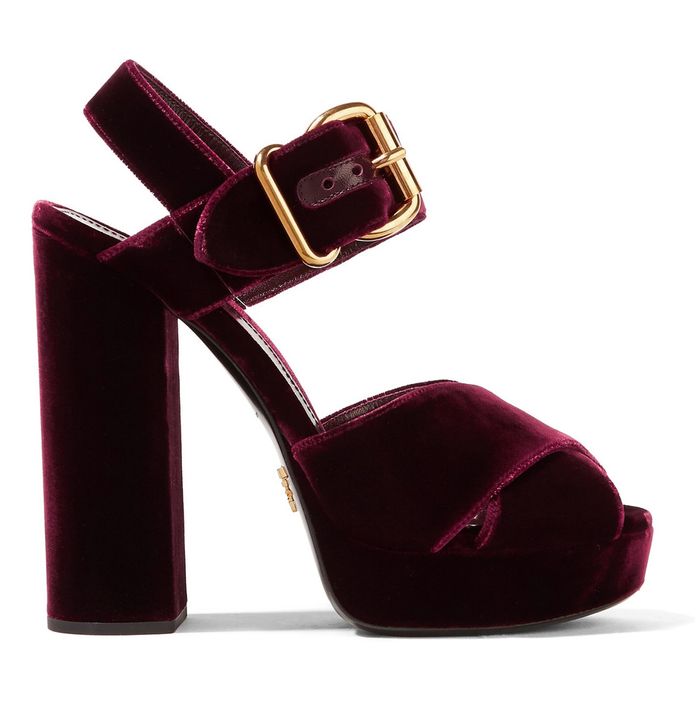 I did a literal double take the first time I saw Prada's velvet platform sandals. I was in a big hurry, dashing around Soho running errands, but they caught my eye as I sped past the Prada store, and the next thing I knew I was rushing back to press my face against the window.
Velvet for fall is hardly a new trend, but the material can often look tacky, like you were on your way to the Renaissance Faire and got lost. What I love about these platforms is that they're covered in the richest purple velvet but still don't appear costumey. At $850, they're a big splurge, of course, but I can envision exactly how they would fit into my life.
As someone who stands only five-foot-three, I feel most like myself when I'm wearing heels, and platforms are the most comfortable form of heel. The plush, jewel-toned velvet and the glossy gold buckle make these shoes seasonless (provided it's not snowing.) I'd wear them with sundresses now, tops and jeans a little later, and layered with tights all winter. And I'd probably still be doing double takes every time I looked down at my feet, because they're just that good.
If you buy something through our links, New York may earn an affiliate commission.