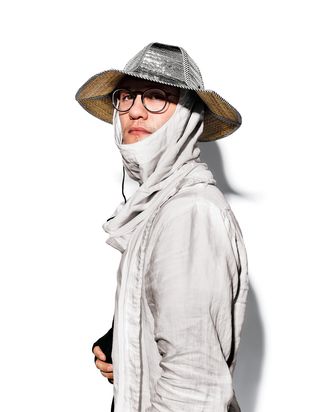 "Someone the other day said I looked like a beekeeper."
Photo: Bobby Doherty/New York Magazine
Daniel Giordano, Sculptor
Why all white?
I've been wearing white recently to avoid Lyme disease — I can see if there's a tick crawling on me — and to stay cool. I'm going for sort of a postapocalyptic peasant look. Someone the other day said I looked like a beekeeper. I'm excited because I just bought some white Crocs.
Where did you get that white linen hood?
My father used to own a coat factory in Newburgh, New York, and I asked one of his former employees, Adelaide Tallerico, to make it for me. I have a white neoprene version that I'll wear in the winter. Someone recently biked by me and said, "What the fuck is that?" I get a lot of weird stares. I think if you dress a certain way, it sort of becomes an assault on people's psyches.
Lightning Round
Age: 28.
Neighborhood: "I live between Newburgh and my brother's place in Astoria."
On his art: "I've been using a lot of Tang, marzipan, and urinal cakes."
Hat: "It was $1 in Montreal's Chinatown."
Favorite restaurant: "I love Kenka on St. Marks Place; my friends and I get really cheap pitchers of beer."
Favorite TV show: Aqua Teen Hunger Force.
*This article appears in the August 7, 2017, issue of New York Magazine.