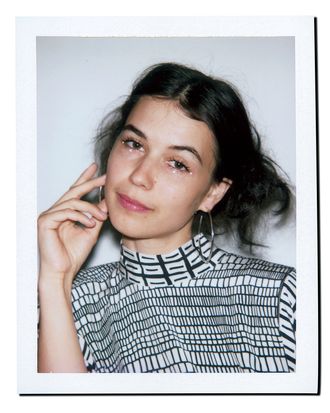 Monica Hofstadter wears Valentino and Jennifer Fisher hoop earrings.
Photo: Lucas Michael. Photo Editor: Biel Parklee.
Monica Hofstadter walked into the New York Magazine offices with her hair tied in two space buns and a braided bag made of some kind of iridescent material. The bag is from her own line, Doucement, which specializes in braided, handmade knits you just want to swaddle yourself in and take a nap. "It's a French word that means softly and slowly and sweetly all in one," Hofstadter explained. She selected a black-and-white Valentino caftan and stopped twirling in it long enough to tell the Cut about her love of whales, textiles, and Marcello Mastroianni.
If you could be a magazine, what magazine would you be? 
I think I would be one where there are not so many words. A magazine is physical, you get to touch the paper, so there would be a velvet page and a sandy page and a furry page. Something about the sense — maybe it would have smells, like perfumes. Maybe just more of a sensual magazine. I just like to touch things a lot.
If you could speak to animals, which animals would you want to talk to? 
Whales. I think they're the keepers of the planet, and they have an emotional intelligence and an awareness of the globe that we don't have. I heard on David Attenborough that humans don't know where whales mate. I'm a little obsessed with whales; I'd talk to them.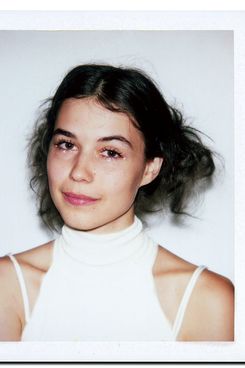 Sneakers or slippers? 
Barefoot.
What's something your social-media followers don't know about you? 
More than textile art, I really enjoy dancing more than anything else in the world. I'm not a trained dancer, but those are the true moments of happiness.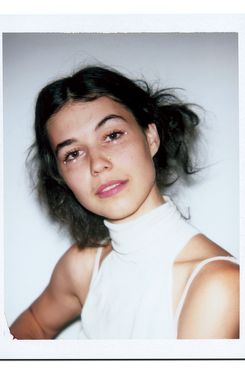 What was the last website you looked at? 
This is so pedestrian, but Google maps.
If you could be outfitted by one designer for the rest of your life, who would it be? 
Courrèges or Pierre Cardin.
What time is your alarm set for in the morning? 
Like, 8, but I might not necessarily get up then.
What do you eat for breakfast? 
A soft-boiled egg and some coffee and toast.
If you had only three things you could eat for the rest of your life, what would they be? 
Lettuce, milk chocolate, and coconut LaCroix.
Fuck/Marry/Kill? 
My boyfriend / Marcello Mastroianni / the people who cause genocide and apartheid and injustice like that.
Person you wouldn't mind being trapped in an elevator with? 
Diana Vreeland. I feel like she'd make it fabulous. She'd transform it into some fantasy.
If you were a color, what color would you be? 
Silver.
If you could tell Donald Trump one thing and make sure he would listen, what would it be?
I've heard he doesn't exercise and believes exercise is unhealthy. He wouldn't be able to respond; he'd have to obey. I'd say, let's go to yoga, then we're going on a walk, and we're going to walk to the disco and dance until the sun comes up. Someone is only how he is if they're in a bad mood themselves. So starting with exercise is good.
Monica Hofstadter wears a Valentino silk dress, $5,200 at Valentino boutiques; Jennifer Fisher hoop earrings, $295 at Net-a-Porter.