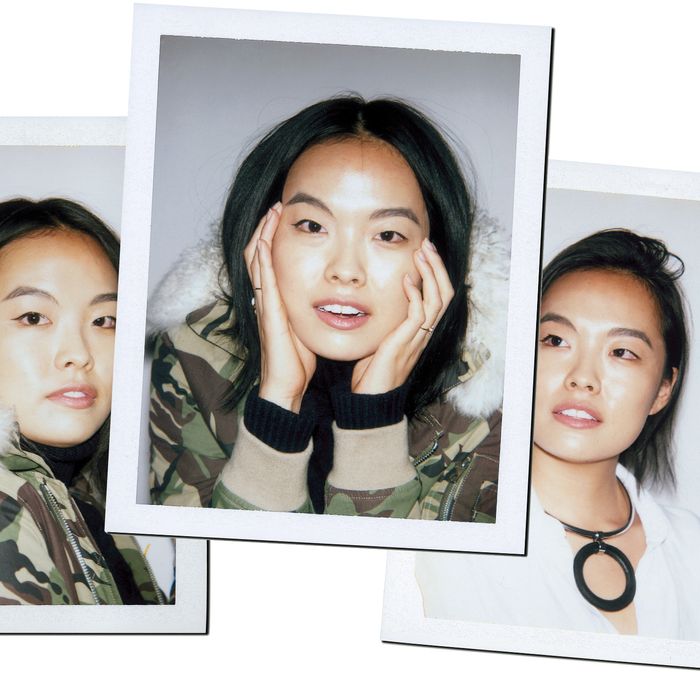 Left and middle: Rebecca Zhou wears a Topshop sweater, rag & bone jacket, and Beaufille earrings; Right: Zhou wears own shirt and Alyx choker.
Photo: Lucas Michael. Photo Editor: Biel Parklee.
"Sometimes when I meet new clients, they'll say, like, 'By the way, I'm a Leo,' " says Rebecca Zhou. "I know the complete star chart of everyone I work with. It's really telling for how they approach things."
Clearly, it's a strategy that's worked. Zhou has been a part of the creative, tech, and business sides of some of the biggest brands of the moment — including Glossier, Reformation, Tom Ford, and Diane von Furstenberg. Currently, she's a freelance webmaster; the parent of Chino, a Shiba Inu with his own Instagram; and the owner of a mid-century house upstate that she and her husband are "fixing up." She spoke with the Cut about her fear of birds, her love for tea eggs, and what she would tell Donald Trump if she had the chance.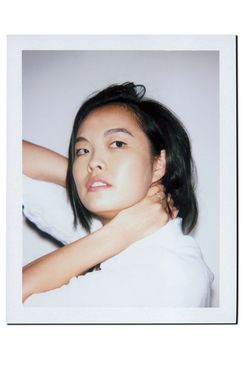 If you could be a magazine, what magazine would you be? Aspirationally, The Gentlewoman, but a friend was telling me recently about a magazine called Frontier. The tagline is about creativity and risk.
If you could speak to animals, which animals would you want to talk to? So many, but definitely dogs. My Shiba Inu — if only I could hear what was going on in his head.
Sneakers or slippers? Sneakers. For sure.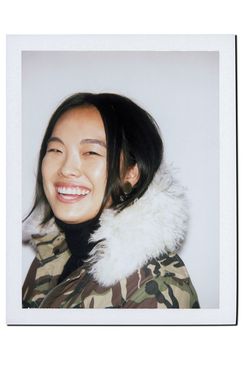 What's something your social-media followers don't know about you? My social-media followers — and actually a lot of people that I'm close to — don't know this, but I am extremely, overly scared of birds, especially pigeons on the sidewalk. I'll be walking with a client and I'll start detouring, and they'll say, "Where are you going?" and I'm like, "I'm scared of that pigeon on the sidewalk." And they're horrified. I'll literally cross the street.
What was the last website you looked at? I was Googling how to ease into a pescatarian diet.
If you could be outfitted by one designer for the rest of your life, whom would it be? I think someone like Lemaire, because it's so practical.
What time is your alarm set for in the morning? It varies so much, but between 7 and 9.
What do you eat for breakfast? I think they're called tea eggs. They're hard-boiled eggs but they're boiled in soy sauce so they have a little flavor. There's a cart right outside of my office in Chinatown and they're three eggs for one dollar. Super healthy and tasty.
If you had only three things you could eat for the rest of your life what would they be? Vegan Caesar salad at Scarr's Pizza, Miso black cod, and a really good mushroom dumpling.
Fuck/Marry/Kill? My husband for all three, depending on the scenario.
Person you wouldn't mind being trapped in an elevator with? My husband was trapped in an elevator with my dog on Christmas two years ago and they had a jolly time. So I'll pick my dog.
If you could tell Donald Trump one thing and make sure he would listen, what would it be? As the child of parents who are immigrants, I would tell him their story. They came here with $30 and at the end of their career, basically my dad created technology behind Goldman Sachs' trading platform and my mom saved Ford Motors from taking money from the government. I'd also tell him to be careful with China and North Korea.
If you were a color, what color would you be? This goes back to my horoscope thing. I'm an Aquarius, so I think I would be blue. Blues can be very energetic and they can also be more calm and melancholy.
Rebecca Zhou wears a Topshop ribbed rollneck sweater, $68 at Topshop; rag & bone flight jacket, $795 at rag & bone; Beaufille Gypsum earrings, $600; Alyx Domination collar, $226 at The Broken Arm.