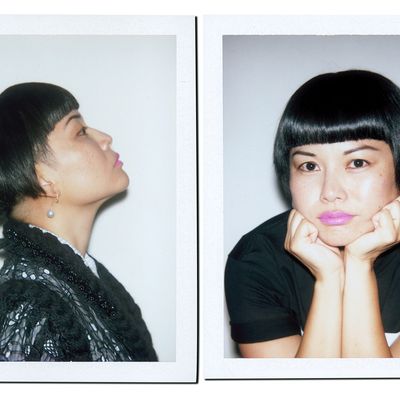 Left: Anne Ishii wears Simone Rocha coat and dress, David Yurman earrings. Right: Ishii wears own shirt.
Photo: Lucas Michael. Photo Editor: Biel Parklee
In addition to being a writer, producer, and translator, Anne Ishii is a character. See her in person, with her graphic black bob and her neon-pink lipstick, and it's immediately clear: Yes, this woman is very cool. She produces and translates gay erotic manga (bara), has written extensively about sexuality and race relations, and is the owner of Massive Goods, which represents queer and feminist Japanese artists. Ishii spoke with the Cut about surviving on cucumbers, being more friendly in real life, and eggs as salty pancakes.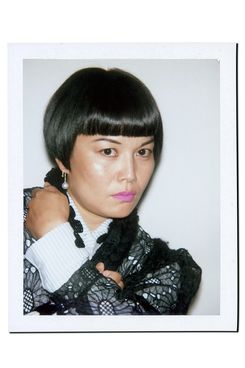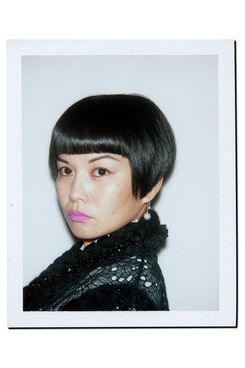 If you could be a magazine, what magazine would you be? That's so hard! Um … Toiletpaper. 
If you could speak to animals, which animals would you want to talk to? My cat.
Sneakers or slippers? Sneakers.
What's something your social-media followers don't know about you? That I hate them. Just kidding. I'm more sociable than my social-media account lets on. I always say, "I can't get out of bed" but I actually love IRL hanging out.
What was the last website you looked at? maps.google.com
If you could be outfitted by one designer for the rest of your life, who would it be?  That's even harder than the magazine one. It would be resurrecting someone from the dead, but Hanae Mori.
What time is your alarm set for in the morning? 8:50.
What do you eat for breakfast? Eggs, over hard. They're basically salty pancakes. And some pickles, actually.
If you had only three things you could eat for the rest of your life what would they be? Pickles, ramen, cucumbers.
Fuck /Marry/Kill?  Channing Tatum, Steven Yeun, Steve Bannon.
Person you wouldn't mind being trapped in an elevator with? My husband.
If you could tell Donald Trump one thing and make sure he would listen, what would it be? Women are people.
If you were a color, what color would you be? Red.
Anne Ishii wears a Simone Rocha embroidered floral organza dress, $2,675 and blue striped beaded collar long smocked shirt, $1,140 at Simone Rocha, 71 Wooster St.; David Yurman Solari Drop Earrings, $1,700 at David Yurman.