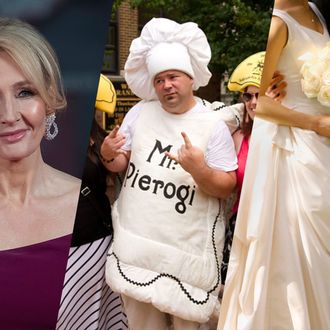 J.K. Rowling, a guy dressed as a pierogi, and a stranger's stock wedding photo.
Every week brings such an overwhelming onslaught of news, that sometimes the most entertaining bits can fall through the cracks. Here, we'll recap the pettiest squabbles, juiciest feuds, and other niche drama you didn't know you were living for.
Beauty Blogger vs. Her Wedding Photographer
A wedding is (ideally) a once-in-a-lifetime event, so it's understandable that some people like to drag the attention out for as long as possible. One way to prolong that wedding bliss that we wouldn't recommend? Spending three months post-nuptials trashing your wedding photographer online, then going on local TV news to continue the tirade.
Dallas-based beauty blogger Neely Moldovan was ordered to pay $1 million in damages this week to a wedding photographer whom a jury says she defamed over a $125 wedding-album fee.
Moldovan hasn't commented on the judgment, but she has posted her list of goals to accomplish in August, which include "focus on Pinterest growth (really close to 20k)"  and "plan a trip to Houston."
Terrible Writer vs. the Iowa Writer's Workshop
This week, a 68-year-old writer filed a complaint with the U.S. Department of Education alleging that he was discriminated against by the Iowa Writer's workshop for his age.
"It seems like a program just for millennials," Dan Thomson said. "I would have guessed that there would have been a broader range of ages."
Sure, it's possible they rejected him based on age and not skill, but …
No, please … tell me more about the Tork.
Pierogi Festival vs. Other Pierogi Festival
There is no drama better than small-town drama, especially when it involves Polish delicacies. Chicago's Pierogi Fest and Edwardsville, Pennsylvania's Edwardsville Pierogi Festival have entered a heated legal battle over the right to use the term "Pierogi Fest" in their names. Chicago's festival recently sent Edwardsville a cease and desist, ordering them to change their name or pay a licensing fee. Edwardsville residents think that's ridiculous, since nobody's going to confuse the two festivals, which are nearly 700 miles apart. While we wait for this important clash to play out in court, please, someone make us pierogi.
J.K. Rowling's Fake News
Extremely beloved and extremely rich author J.K. Rowling has managed to stay in the news cycle in perpetuity by turning her Twitter account into a one-stop shop for both Harry Potter fan fiction and liberal fan fiction. This week, however, her Twitter habits landed her smack in the middle of an actual fake-news controversy.
Last Friday, she posted a series of now-deleted tweets about President Trump supposedly ignoring a small boy in a wheelchair during an event. Thing is, video evidence shows that, in this case, Trump did greet the child.
Several people, most notably CNN correspondent Brian Stelter, called Rowling out for not correcting her tweets.
The following day, Rowling 'fessed up to being incorrect on her account.
Accio apology thread!
Dating Apps Behaving Badly
Both Tinder and Bumble have found themselves in the news this week for behaving almost as terribly as companies as most people do on their apps.
First, we learned that Tinder was reportedly fined for throwing "rowdy ragers" in the Hamptons. How rowdy? Exactly this rowdy:
Officers found that the party was over capacity and Tinder didn't have a required events permit. Organizers had installed a skateboard ramp, a DJ and a garden tepee for those tender Tinder moments.
Then on to Bumble, which positions itself as slightly less awful than Tinder because only girls are allowed to message boys first. The company was discovered to have set up shop in a luxury residential apartment building — one not zoned for businesses — much to the dismay of everyone else who lived there. Residents complained of employees taking their parking spaces, hanging out in the hallways, and accosting them in an attempt to kiss them on the "Bumble Kiss Cam."
Your move, OkCupid.
Ryan Adams vs. the Strokes
Here's a nice little nostalgia beef to cleanse the palate: Ryan Adams spent several hours on Monday evening sending out angry tweets about the Strokes. The harshest? "Julian Casablancas: who got you strung out on lasagna tho?" Adams has since deleted them all, but one day, the early aughts will rise again.
Catch up on previous drama here.