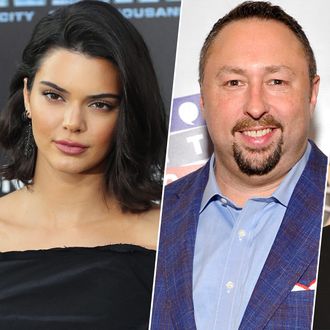 Kendall Jenner, Jason Miller, Justin Theroux.
Photo: Getty Images
Every week brings such an overwhelming onslaught of news, that sometimes the most entertaining bits can fall through the cracks. Here, we'll recap the pettiest squabbles, juiciest feuds, and other niche drama you didn't know you were living for.
Kendall Jenner vs. Baby's All Right
On one side of the ring, we have Kendall Jenner — model, Kardashian sister, and enemy of ballerinas everywhere. On the other, Baby's All Right — a Brooklyn bar and music venue that we just realized also serves brunch, because of course it does.
The fight started back on Friday, when Baby's posted a now-deleted Instagram of Jenner's $24.00 check, on which she did not appear to leave a tip. "Don't forget to tip your bartender :)" they captioned it, for good measure.
Jenner hit back with a Monday night tweet, saying, "damn, i guess next time we won't tip in cash."
Baby's remained undaunted, posting an Instagram of a screengrab of that tweet on Tuesday and invoking Nietzsche — Nietzsche! — in their caption, which read, "I'm not upset that you lied to me, I'm upset that from now on I can't believe you." (Turns out Nietzsche was a basic bitch.) They've since deleted that Instagram too. But! On Wednesday, they posted a final 'gram: a "that escalated quickly" meme and a shot that says "do the right thing … even when no one is watching." It's simply captioned ";)."
;) indeed.
Vegan-Meal Photo Tears Family Apart
Last week, a women posted a photo of a meal her vegan sister was served at a restaurant: sliced-up tomatoes and red onions. It was highly relatable for anyone who's vegan, hilarious even if you're not, and spread pretty quickly as a result.
But, following the tweet's popularity, the sister spoke up on Twitter to share her side of the story. "Imagine being talked into selling a story about a tweet u hate by ur family so that u can help further ur sisters 'social media career,'" she wrote, insisting that she ate the meal "happily." She also said, she "never gave permission for the tweet or that pic in the first place."
The original sister hit back with "me, my mum & dad are absolutely dumbfounded right now because this DID NOT happen and she's completely talking out her arse." She's since deleted her account, while the other sister made hers private.
It's just like Tolstoy said: All happy families are all alike; every unhappy family is fodder for viral content in its own way.
Illegitimate Trump-Staffer Child
It's never a dull week in the Trump administration, though this week they celebrated a new (public) milestone: the first illegitimate child born to ex-staffers. Former communications director Jason Miller and Trump transition adviser A.J. Delgado welcomed baby William into the world. Miller's wife also gave birth to a child in January.
Miller gave "Page Six" a statement that said, "My wife and I, along with our two daughters, are excited to welcome William into the world and into our family, and we appreciate the well wishes we've received from so many."
Meanwhile Delgado was not having it, and announced she was taking her story to The Atlantic.
Something tells us we'll see a Part II in this space next week.
Rich-People Schadenfreude
There is nothing quite as sweet as watching insanely rich people get their comeuppance, especially in San Francisco, where the tech boom has made the gap between rich and poor unignorable. So enjoy this piece of schadenfreude: When the well-heeled multimillionaires of San Francisco's fancy Presidio Terrace neighborhood declined to pay the taxes on their private street for three decades, an enterprising South Bay couple bought it in a city auction. Now Tina Lam and Michael Cheng have the right to charge residents for street-related use like parking, and the Presidio Terrace residents are pissed. Don't worry, guys: I'm sure you can afford a $50/month parking spot.
The Attempted Swastika "Rebrand"
There are many things a clothing brand can do to drum up attention for its pieces: billboards, viral marketing, cross-promotional stunts. One thing we do not recommend? Trying to "reclaim" a notoriously hateful symbol.
European T-shirt designer KA landed itself in hot water this week when it tried to "reclaim" the swastika by putting it in rainbow fonts on shirts alongside words like "Peace" and "Love." The idea went over about as poorly as you'd expect: Facebook criticism was swift, and the ADL even released a statement condemning the company. Maybe next time you want to drum up press just have an Instagram influencer wear your shirts and, uh, don't put swastikas on them.
Justin Theroux vs. His Neighbor
You may think that Justin Theroux would be the ideal neighbor, if only for the fact that you might catch him in the hallway shirtless bending over to pick up the newspaper. But living below him has become a nightmare for one Greenwich Village resident, who claims Thereoux is "terrorizing" him with "endless barking from his rescue dogs left isolated for long periods, dropping heavy weights on the floor at 3 a.m. and angry outbursts." Thereoux initially filed a lawsuit against his grumpy neighbor for allegedly cutting off his water supply in revenge, but now the neighbor is countersuing. Look, let's settle this the way Kevin Garvey would: by inducing a near-death experience to enter into an afterlife-type world where you can fight it out until someone resuscitates you.
Catch up on previous drama here.