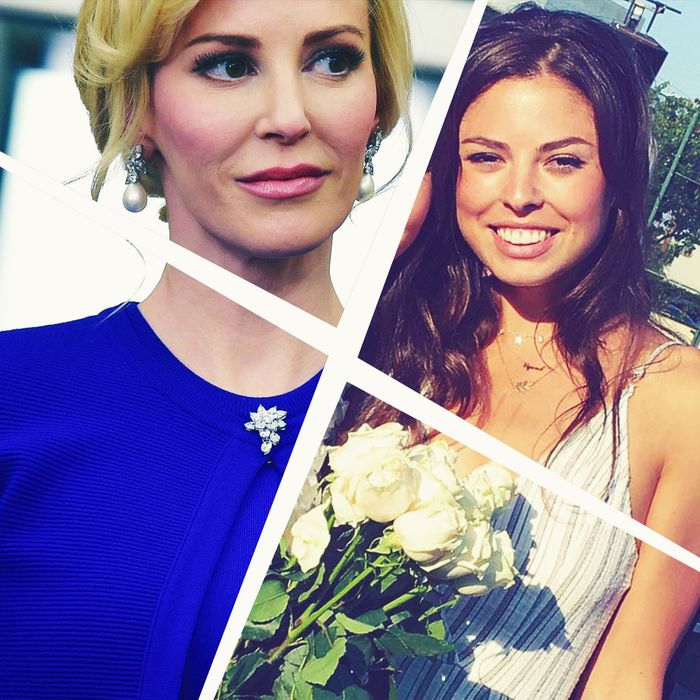 Photo: Getty Images; Courtesy of Facebook/Caroline Summer Kennedy
Every week brings such an overwhelming onslaught of news, that sometimes the most entertaining bits can fall through the cracks. Here, we'll recap the pettiest squabbles, juiciest feuds, and other niche drama you didn't know you were living for.
Louise Linton vs. @jennimiller29
Louise Linton — blonde actress, author of an inaccurate white savior memoir about her time in Zambia, and wife of U.S. Treasury Secretary Steven Mnuchin — stirred up some Instagram drama for the ages early this week. It all began on Monday night when she posted a photo of herself and her husband de-boarding a government plane, hashtagging various luxury brands (#rolandmouret pants, #tomford sunnies, #hermesscarf #valentinorockstudheels #valentino #usa) in the caption. A user with a much, much smaller follower count, @jennimiller29, simply commented "Glad we could pay for your little getaway #deplorable." But @jennimiller29 had no idea what she had gotten herself into.
Linton replied directly to her with a lengthy, paragraph-long comment that's almost impressively unchill. Some choice excerpts:
"Aw!!! Did you think this was a personal trip?! Adorable!"
"Have you give more to the economy than me and my husband? Either as an individual earner in taxes OR in self sacrifice to your country?"
"Thanks for the passive aggressive nasty comment. Your kids look very cute. Your life looks cute. I know you're mad but deep down you're really nice and so am I."
Linton apologized for her "inappropriate and highly insensitive" actions, but not before the Working Families Party roasted her with a meme of their own.
Finally, @JenniMiller29 — née Jenni Miller — reemerged on Wednesday via a scathing CNN op-ed.
The Rescued Piglet Sausage Debacle
News from a small English village stirred up drama across the Atlantic this week, when we learned that firefighters who once saved 18 piglets and two sows from a fire in February were later served sausages made from those very same pigs. When the firefighters posted about the sausages on Facebook, people understandably became very angry because, well, have you ever seen a baby pig? The comments came pouring in — from "I'm disturbed by your inhumanity" to "if you rescue cats, dogs and babies do you sit down to eat them six months later?" They ended up deleting their original post and apologizing, while a lot of other meat eaters apparently just made the connection as to where the food they're eating comes from.
David Blaine Tried to Upstage the Eclipse
While all eyes were on the eclipse on Monday (most of them protected), it appears that David Blaine tried to start some beef with the actual celestial bodies involved. He reportedly crashed a rooftop eclipse party and "performed card tricks for the whole team, like shrinking a deck of cards and making all of the suits disappear except for the hearts." Meanwhile, the sun and the moon were both like, "can we just have this ONE thing?"
Caroline Kennedy Went to Brown, Sweetheart
Kyra "Google me!" Kennedy may need to watch her back, or else her cousin may come for the throne of Worst Young Kennedy. This week Caroline Kennedy and her father, Max, were arrested after refusing to shut down a raucous party at their Cape Cod compound. When police began to arrest them, Caroline reportedly shouted, "You don't know who you're messing with!" then, later, "I went to Brown and I'm a teacher, sweetheart!" Your move, Kyra.
HGTV's Cake Drama
If you thought your group chat text was lit with drama, you should check HGTV's Facebook page. Their recommendation for garnishing a store-bought cake with rosemary and thyme was too much for some people to take.
"It looks like you'd need to mow and rake it before you eat it," quipped one user. Another was even more incensed. "I had been taking a break from Facebook because I was so tired of reading about Trump, Nazis, etc. Now I come back for a brief moment and see cakes are now being stripped of their frosting and garnished with weeds. I think my Facebook hiatus will continue."
We'd probably still eat it.
Taylor Swift Is Back on Her Bullshit
The old Taylor Swift is dead, and the new one is really leaning into the whole sociopath thing. "Look What You Made Me Do" not only rehashes old feuds but it will also surely start new ones. Say what you will about Tay Tay, but you've gotta admire her commitment to drama.
Catch up on previous drama here.