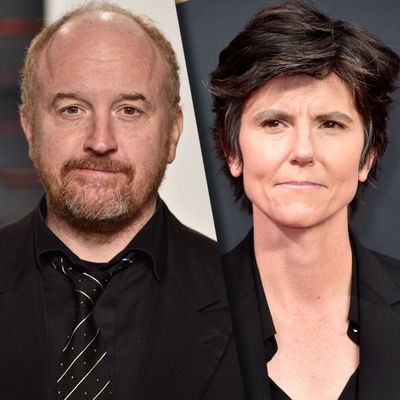 C.K. and Notaro.
Photo: Getty Images
Comedians Tig Notaro and Louis C.K. have a rocky history that began with C.K. helping launch Notaro's career with the sale of her famous Hello, I Have Cancer stand-up routine in 2012, then publicly deteriorated after Notaro accused C.K. of plagiarizing her short film Clown Service for one of his SNL sketches earlier this year. At that time, Notaro said she hadn't spoken to C.K. in "nearly a year and a half." In a new interview with the Daily Beast, Notaro is giving more context to their falling out: She claims that despite his executive-producer credit on her Amazon show One Mississippi, C.K. has "never been involved" and has "nothing to do with the show," and she's especially frustrated with his association with it given this season deals with sexual misconduct.
For years, allegations have dogged C.K. that he's engaged in sexually inappropriate behavior around other female comedians, with Roseanne Barr once claiming C.K. is known to force women he works with to watch him masturbate, though she clarified she had no firsthand knowledge. This season, One Mississippi includes a scene in which Notaro's wife Stephanie Allynne is "forced to sit and watch as a man in power surreptitiously masturbates in front of her in the workplace."
C.K. hasn't fully addressed the allegations, only telling Vulture last year: "Well, you can't touch stuff like that. There's one more thing I want to say about this, and it's important: If you need your public profile to be all positive, you're sick in the head. I do the work I do, and what happens next I can't look after. So my thing is that I try to speak to the work whenever I can. Just to the work and not to my life."
Notaro tells the Daily Beast that C.K. doesn't need to just "acknowledge" the allegations, but "handle that, because it's serious to be assaulted. It's serious to be harassed. It's serious, it's serious, it's serious." She adds: "I walk around doing shows at comedy clubs and you just hear from people left and right of what some big-shot comedian or person has done. People just excuse it." Notaro does not say if she has personal knowledge of or witnessed any of C.K.'s alleged misconduct, but mentions an "incident" that happened between her and C.K. just prior to One Mississippi, without going into detail before bringing up the allegations. "We don't talk since then," she says. Vulture has reached out to C.K.'s reps for comment.