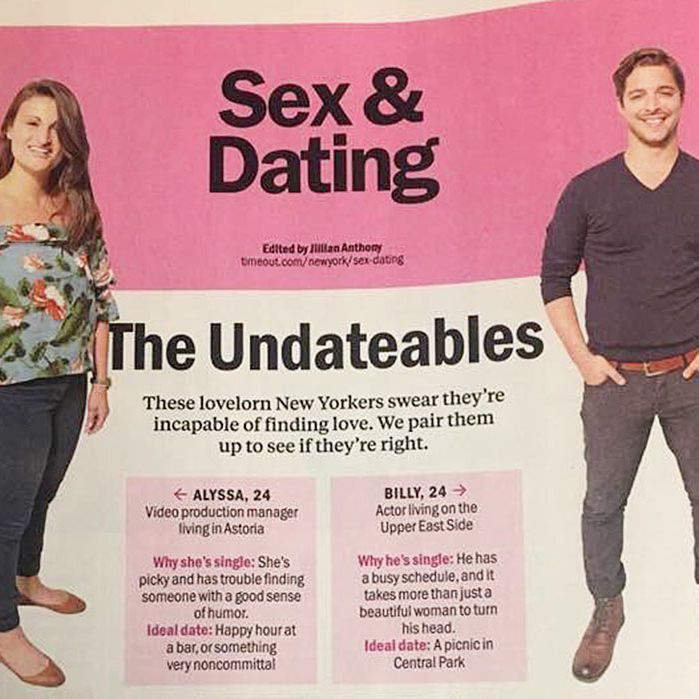 Billy Peck's bad date.
Photo: Courtesy of Twitter/thejoannac
Earlier this summer, Billy Peck was dubbed the most "undateable" man in New York City by "Page Six," after his particularly cringeworthy appearance in a Time Out blind date column went viral. The magazine initially agreed to give Peck a "do-over" to redeem himself, but apparently changed its tune after he made a number of over-the-top demands.
Back in June, Peck — an actor — participated in Time Out's The Undateables column, in which two people go on a date and separately assess it for the magazine. He described himself as a Disney prince, yet presented himself as a jerk, and proceeded to insult his date for how she ordered her steak and saying the evening felt "like I just took two hours of my time and burned it."
His date went viral after Vanity Fair writer Maya Kosoff tweeted about it (and then he, of course, DM'd her to explain his side of the story). Shortly after, "Page Six" ran an item about Peck's bad date behavior — and noted that Time Out agreed to set him up on another date.
However, Time Out editor Jill Anthony recently told "Page Six" that Peck made excessively hefty demands of his second chance: "He provided a list of requests that included (among other things) the type of restaurant he wanted to go to; that the interview be published to align with his upcoming television appearance [on Fox's Love Connection]; and the physical attributes of the type of woman he preferred to be set up with." He also requested the post-date interview to be done in person and recorded.
Time Out was fine with his interview criteria, but "we couldn't say the same for some of the rest of his requests," according to Anthony. So glad we were spared from having to witness this guy inevitably insult another date.